Regular worship times
For more than 1,400 years God has been worshipped in Canterbury Cathedral. There's history in every chime of our bells, and passion in every note sang by our choir. 
Whether you need a quiet time to reflect, are seeking comfort, or wish to introduce your loved ones to faith, you are warmly invited to join our worship and services at Canterbury Cathedral.

| | | |
| --- | --- | --- |
| Daily Eucharist | 08.00 |   |
| Lunchtime Eucharist | 12.30 (Wednesdays and Feast Days only) |   |
| Daily Choral Evensong* | 17.30 |   |
| Sunday Choral Eucharist* | 11.00 |   |
All are welcome and there is no charge to attend a service. *Live streamed online. 
January-March 2023
NEW What's On Guide
Your guide to events, services, family-friendly activities and new visitor experiences at Canterbury Cathedral.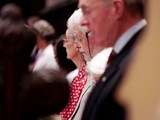 Today's prayer
Prayers have been said at Canterbury Cathedral for more than 1,400 years and people of every age pray every day. Whether you are a child, young person or an adult, please join us in our daily prayer.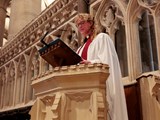 Send a prayer
Send your prayer via email here and continue the faith that has lasted for more than 1,400 years at Canterbury Cathedral.
Will I meet the Archbishop of Canterbury?
The Archbishop only visits the Cathedral at certain times of the year. You are unlikely to encounter him on your visit to the Cathedral. 
The Archbishop of Canterbury, Justin Welby, is the senior bishop and principal leader of the Church of England. He is 105th in a line which goes back more than 1,400 years to Augustine of Canterbury, sent from Rome in 597AD.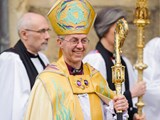 Our active community
There's over 300 paid staff, supported by over 600 volunteers at the Cathedral, welcoming all into the grounds and building.
You may meet a range of people during your visit, from our Constables who keep the Precincts safe, to our Shepherds and guides who are always happy to answer any questions you have.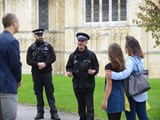 Cathedral Constables
As well as keeping the Cathedral safe and secure, our constables are trained as first responders for fire and first aid emergencies.
Bell ringing
Listen to the Cathedral's 20+ bells which are an important part of the Cathedral's worship. Great Dunstan, the Cathedral's largest bell, often commemorates services.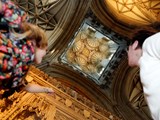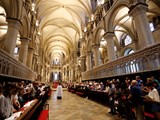 My Spirituality
David Holton
Volunteer


"When I did my assistants training I took part in a candlelight pilgrimage one evening around the Cathedral. It was led by Canon Clare Edwards. Her lovely voice singing prayers was truly inspirational to me. It rekindled my faith, which had been absent since my teens.
Then with the help of Clare and the Reverend Bill Hornsby, it culminated in me being confirmed by Bishop Trevor on Easter Saturday in 2018.
This has changed my life."
There seems to have been an error while submitting your feedback
Thank you for submitting your feedback
Add your feedback