Worship & Music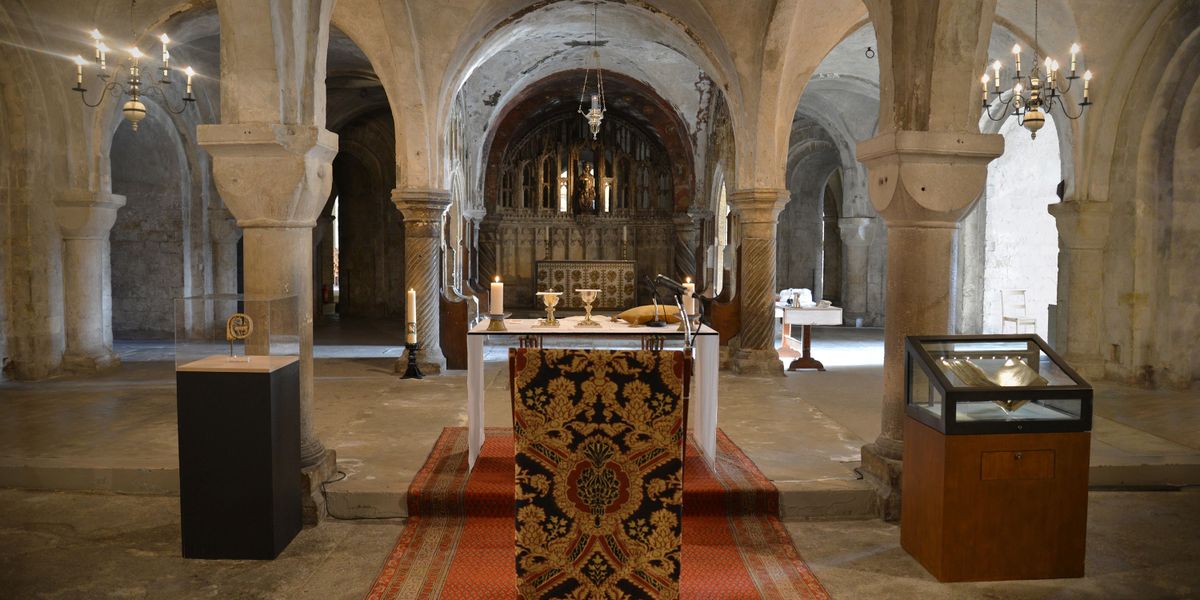 For more than 1,400 years God has been worshipped in Canterbury Cathedral. With its roots in the Benedictine tradition, the ongoing daily pattern of morning and evening prayer and Eucharist (Holy Communion) continues the prayers and praises of countless generations.
We are delighted to welcome congregations back for worship within the Cathedral. Please see below for details of our in-person services.
Public worship at the Cathedral
| | |
| --- | --- |
| Daily Eucharist (Crypt) | 08.00 |
| Daily Morning Prayer (Crypt) | 07.30 (Mon-Fri); 09.30 (Sat-Sun & Bank Holidays) |
| Daily Evensong*†(Nave) | 17.30 |
| Sunday Eucharist* (Nave) | 10.30 - pre-booking required (click here to book online) |
You must not attend with or socialise with anyone outside of your household or support bubble, unless a legal exemption applies. Please see our Worship FAQs for further information.
All are welcome and there is no charge to attend a service.
*These services will also be live streamed on the Cathedral's website and YouTube channel.
†Due to anticipated numbers attending Evensong on Sunday 4 July, you will need to pre-book your place for this service​.
Worship FAQs
Do I need to book to attend a service of worship?
If you wish to attend Sunday Eucharist, you will need to pre-book your seat. Click here to book online. Bookings are not required for our other services.
To comply with government guidance on NHS Test and Trace, we will ask you for personal details during your online booking. Please see 'NHS Test and Trace' below.
Should I wear a face mask?
In line with government guidance, face coverings must be worn in places of worship unless you have an exemption.
NHS Test and Trace
In line with government guidance we are required to keep an accurate temporary record of our visitors and worshippers for 21 days to assist NHS Test and Trace with requests for data if needed for contact tracing and the investigation of local outbreaks. We will collect your personal data securely either via our online booking form if you pre-book to attend, or via paper form as you enter the Cathedral.
Will I be able to take communion at a service?
Yes. Communion will be distributed in one kind only (the bread) and hygiene precautions will be taken during the distribution.
Will I be able to sing as part of the service?
Congregational singing is not yet permitted by government guidance. Please note that raising voices and shouting are also discouraged because of the potential for increased risk of transmission from aerosol and droplets. Therefore, spoken responses during worship should also not be in a raised voice.
Will there be Orders of Service?
You are encouraged to bring your own copy of Common Worship Daily Prayer to Morning Prayer.
For other services, single-use Orders of Service may be provided in ways that conform to government guidelines. Any book that needs to be reused will be quarantined for at least 48 hours between uses.
Items owned by the individual to aid worship such as Bibles, Prayer Books, or devotional objects can be brought in but should be removed again by the worshipper.
Will I be able to light a candle?
Yes. Votive candles will be available at the west end of the Nave during Nave services.
Will the toilets be open?
Yes. Our public toilets in the Precincts will be open 10.00-18.30 daily.
Toilets will be checked regularly but will not be staffed. In order to maintain safe physical distancing, one-way routes and gender-inclusive toilets will be in operation.
Is parking available?
Parking is available for Blue Badge holders only, subject to limited availability. No other parking on site is possible. Please use the public car parks within the City.
Will there be tea and coffee after services?
No. For hygiene reasons no refreshments will be provided after services. We encourage you to leave the building as soon as the service is over, and if you wish to catch up with your friends, to do so outside where it is safer, and at a safe distance from one another.
People who are symptomatic
Anyone feeling unwell or showing symptoms of COVID-19 should not attend services of worship due to the risk that they pose to others; they should self-isolate at home immediately with other members of their household. Remote participation should be considered, for example by watching our daily online videos.
Can I donate to support the Cathedral?
Yes, we welcome any support for our ministry and the stewardship of the Cathedral. You can donate online, give at one of the contactless donation stands in the Cathedral, or make a cash donation into one of our collection boxes. The typical donation is £5.
Bag searches
Please note that bag searches may be carried out. To keep delays to a minimum, visitors are asked to avoid bringing large bags or backpacks. The searches are not in response to intelligence of any particular threat relating to Canterbury Cathedral, but we take the security of staff, volunteers, visitors and worshippers very seriously, and we hope this will help reassure all who come to the Cathedral.
Can you help us?
In these unprecedented times we still need your help. Having lost most of our visitor income since the pandemic began, we are faced with huge financial challenges. The Cathedral's survival now depends on the generosity of people who care about it. A donation of any size will be deeply appreciated. Can you help us? Please click here to donate. You will be supporting the running costs of this special place which has served its community for 1,400 years.
We hope to continue that ministry for years to come. Please consider helping us. Thank you.
Security
The Cathedral takes the safety and security of all our worshippers and visitors very seriously. If you are coming to the Cathedral, please be aware that as a condition of entry we reserve the right to search any bags or luggage on entry. Our Cathedral Constables and Visits Teams are there for your safety, so please do cooperate fully with all security checks and support these vital members of our team as they carry out important work to keep us all safe and sound.
An exception will be made for medically necessary items after thorough proper inspection at a designated area set aside for this purpose.
Our bag policy
Regrettably, we do not have a left luggage facility and we would prefer you do not bring large bags into the Cathedral. If you bring any luggage or bags, you must not leave them unattended as they may be treated as suspicious items and could be destroyed.
Share