Worship & Music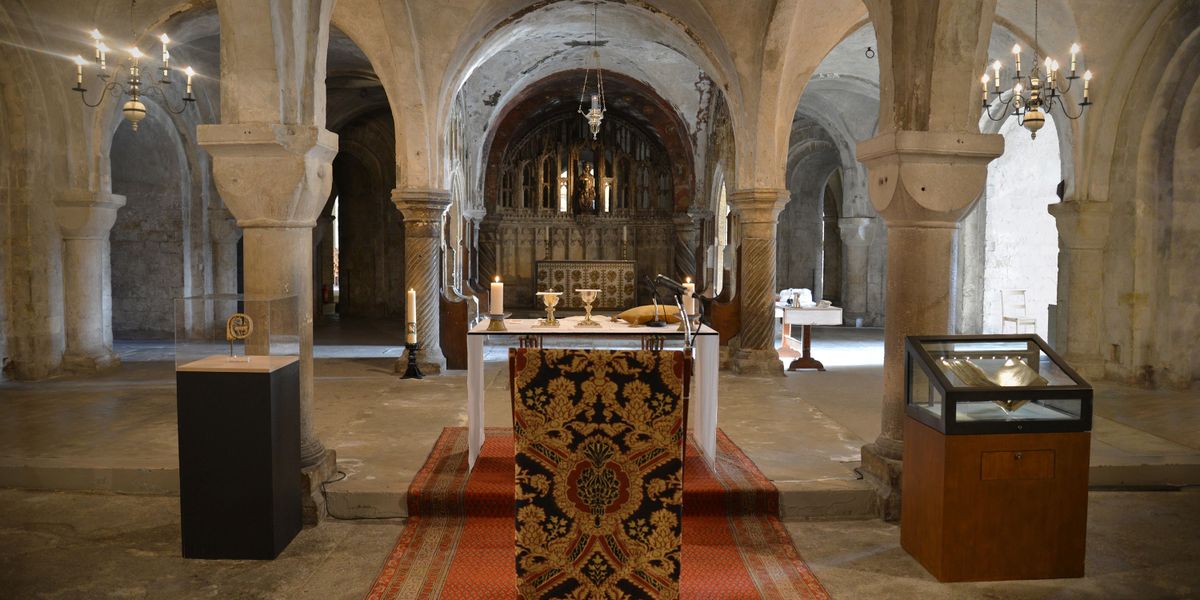 For more than 1,400 years God has been worshipped in Canterbury Cathedral. With its roots in the Benedictine tradition, the ongoing daily pattern of morning and evening prayer and Eucharist (Holy Communion) continues the prayers and praises of countless generations.
We've introduced a range of new safety measures to ensure your wellbeing, including one-way routes, enhanced cleaning regimes, hand sanitiser stations, distanced seating, additional signage and floor markings, and PPE for our staff, volunteers and Constables as appropriate. We've also made several other changes, including the introduction of pre-booked tickets to attend our 10.30 Sunday Eucharist.
UPDATE 9 September 2020: The UK Government has confirmed that COVID-19 Secure venues, such as places of worship, restaurants and hospitality venues, can continue to host larger numbers of people up to their social distancing capacity but that no one can visit in a group of more than 6, and that groups must not mix or form larger groups – see Gov.uk for details
Read our FAQs below to prepare and to find out what you can expect from us – and what we request of you – to ensure a safe experience.
Daily worship: services within the Cathedral
Sunday

Book of Common Prayer Eucharist (Our Lady Undercroft)
08.00
Matins (Jesus Chapel)
09.00
Sung Eucharist (Nave) – pre-booking required (click here to book online)*
10.30
Choral Evensong (Nave)
17.30

Monday - Friday

Matins (Jesus Chapel)
07.30
Eucharist (Our Lady Undercroft)
08.00
Choral Evensong (Nave)**
17.30

Saturday

Eucharist (Our Lady Undercroft)
08.00
Matins (Jesus Chapel)
09.00
Choral Evensong (Nave)
17.30
We advise that you limit your close social interaction to your own household and up to one other, wherever possible, before, during and after these services. All are welcome and there is no charge to attend a service.
* Even when tickets run out for our 10.30 Sunday Eucharist, we may have space to admit those who show up on the day on a first-come first-served basis. The service will also be broadcast online at 12.00 (see below).
** Please note the following changes to the usual pattern of daily Choral Evensong:
Wednesday 28 October - Said Evening Prayer will be in the Crypt at the earlier time of 4pm. This service will not be broadcast online.
Monday 2 November - The 5.30pm Service will be a Requiem Eucharist in the Nave, Evening Prayer will be said in the Crypt at 4.30pm
Sunday 8 November (Remembrance Sunday) - The 10.30am Service will be a Civic Remembrance Service (tickets should be booked online), the 5.30pm Service will be a Sung Eucharist (no tickets required)
Daily worship: online services
The following services are broadcast on our homepage and on the Cathedral's YouTube channel.
To receive notifications when new videos are available, please
subscribe to our YouTube channel
.
---
For details of Cathedral clergy, please visit our 'Who Does What' page.
Worship FAQs
Do I need to book to attend a service of worship?
If you wish to attend our Sunday Eucharist service (10.30), you will need to pre-book your seat. Click here to book online. Bookings are not required for our other services.
To comply with government guidance on NHS Test and Trace, we will ask you for personal details either during your online booking (for the Sunday Eucharist service) or as you enter the Cathedral (for all other services). Please see 'NHS Test and Trace' below.
Sunday Eucharist, 10.30
If you would like to attend the 10.30 Sunday Eucharist you must pre-book your seat online via our website. This is to help us safely manage physical distancing and the number of worshippers at this service. It also enables us to comply with government guidance on NHS Test and Trace (see below). Precinct Pass holders must also pre-book to attend our Sunday Eucharist. Click here to book online.
At present, we are only accepting bookings up to two weeks in advance of the Sunday Eucharist service you wish to attend. Seating at the 10.30 service is limited by the social distancing requirements.
Your ticket is for admission to the service so that we can safely stay within the distanced seating capacity and does not book or guarantee a particular seat; staff and volunteers on duty will seat people and family groups to use the available seating to maximum effect. Your cooperation and understanding is appreciated.
Worshippers at the 10.30 Sunday Eucharist must be in their seat 15 minutes before the service is scheduled to start. Doors open 30 minutes before the service start time.
All other services
There is no need to pre-book to attend our other services of worship. To comply with government guidance on NHS Test and Trace, we will ask all worshippers – including Precinct Pass holders – for personal details as they enter the Cathedral (see 'NHS Test and Trace' below).
Should I wear a face mask?
From 8th August 2020, in line with government guidance, face coverings must be worn in places of worship.
Face coverings should be worn inside our Shop and Visitor Centre. All Cathedral staff, volunteers and contractors will wear face coverings inside the Cathedral, Visitor Centre and Shop.
You do not need to wear a face covering if you have a legitimate reason not to. This includes (but is not limited to): young children under the age of 11; not being able to put on, wear or remove a face covering because of a physical or mental illness or impairment, or disability; if putting on, wearing or removing a face covering will cause you severe distress. For detailed guidance, please see https://www.gov.uk/government/publications/face-coverings-when-to-wear-one-and-how-to-make-your-own/face-coverings-when-to-wear-one-and-how-to-make-your-own
NHS Test and Trace
In line with government guidance we are required to keep an accurate temporary record of our visitors and worshippers for 21 days to assist NHS Test and Trace with requests for data if needed for contact tracing and the investigation of local outbreaks. We will collect your personal data securely either via our online booking form if you pre-book to attend our 10.30 Sunday Eucharist, or via paper form as you enter the Cathedral for our other services of worship.
Where do I go when I arrive?
Due to building works Christchurch Gate is currently closed. Access for services is via the Postern or Mint Yard Gates. Click here to download the Entrances to Canterbury Cathedral map (PDF)
Will I be able to take communion at a service?
Yes. Communion will be distributed in one kind only (the bread) and hygiene precautions will be taken during the distribution.
Will the choir be performing?
No. Choral singing is not yet permitted by government guidance.
Will I be able to sing as part of the service?
Congregational singing is not yet permitted by government guidance. Please note that raising voices and shouting are also discouraged because of the potential for increased risk of transmission from aerosol and droplets. Therefore, spoken responses during worship should also not be in a raised voice.
Will I be able to light a candle?
Yes. Candle stands have been provided in a safe way that complies with Government and Church of England advice. A prayer meditation is also available (text and audio) on our website to help guide your prayer.
Will there be Orders of Service?
You are encouraged to bring your own copy of Common Worship Daily Prayer to Morning Prayer.
For other services, single-use Orders of Service may be provided in ways that conform to government guidelines. Any book that needs to be reused will be quarantined for at least 48 hours between uses.
Items owned by the individual to aid worship such as Bibles, Prayer Books, or devotional objects can be brought in but should be removed again by the worshipper.
Will the public toilets be open?
The toilets are open 10.00-16.00 Monday to Saturday and 09.45-16.00 on Sundays. The facilities are supervised by an attendant member of staff at all times when open to the public. In order to maintain safe physical distancing, one-way routes and gender-inclusive toilets will be in operation.
Is parking available?
Parking is available for Blue Badge holders only, subject to limited availability. No other parking on site is possible. Please use the public car parks within the City.
Will there be tea and coffee after the service?
No. For hygiene reasons no refreshments will be provided after the service. We encourage you to leave the building as soon as the service is over, and if you wish to catch up with your friends, to do so outside where it is safer, and at a safe distance from one another.
People who are symptomatic
Anyone showing symptoms of COVID-19 (a new continuous cough, a high temperature or a loss of, or change in, their normal sense of taste or smell) should not attend services of worship due to the risk that they pose to others; they should self-isolate at home immediately with other members of their household. Remote participation should be considered, for example by watching our daily online videos.
Can I donate to support the Cathedral?
Yes, we welcome any support for our ministry and the stewardship of the Cathedral. You can donate online, give at one of the contactless donation stands in the Cathedral, or make a cash donation into one of our collection boxes. The typical donation is £5.
Bag searches
Please note that bag searches may be carried out. To keep delays to a minimum, visitors are asked to avoid bringing large bags or backpacks. The searches are not in response to intelligence of any particular threat relating to Canterbury Cathedral, but we take the security of staff, volunteers, visitors and worshippers very seriously, and we hope this will help reassure all who come to the Cathedral.
Share