Worship & Music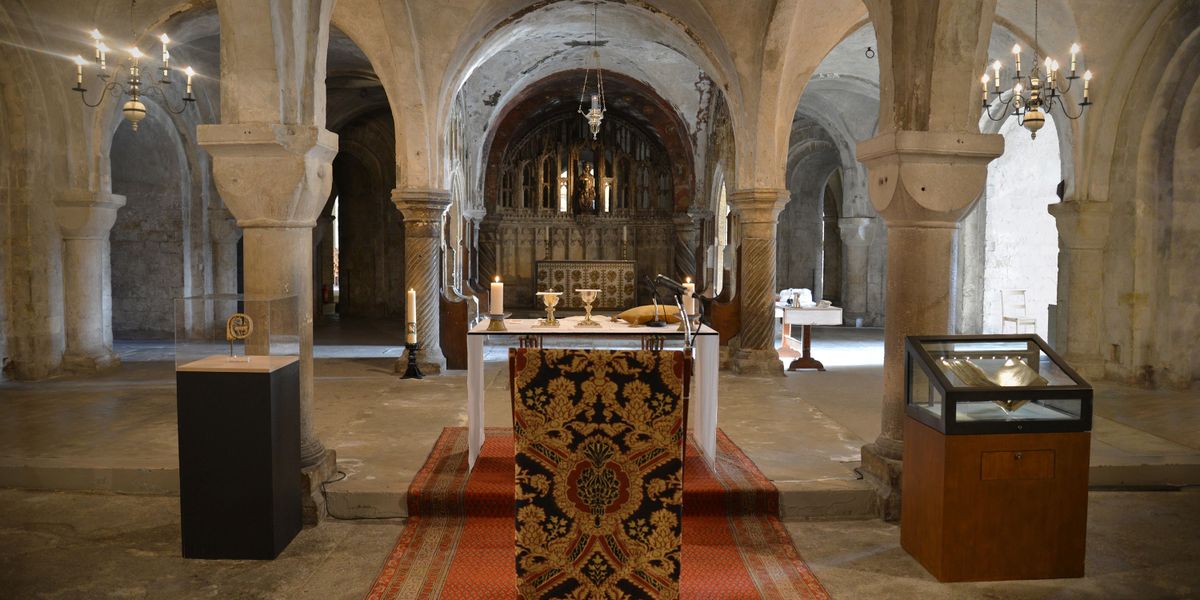 We have reopened to visitors and for services of worship
We're delighted to welcome you back. We've introduced a range of new safety measures to ensure your wellbeing, including one-way routes, enhanced cleaning regimes, hand sanitiser stations, distanced seating, additional signage and floor markings, and PPE for our staff, volunteers and Constables as appropriate. We've also achieved the 'We're Good To Go' official UK mark to signal that we follow Government and industry COVID-19 guidelines and have a process in place to maintain cleanliness and aid social distancing.
We've also made several other changes, including the introduction of pre-booked tickets, and free entry for children and reduced charges for adults until September. Click here to for our Visitor FAQs and click here for information about our services of worship.
Book your visitor tickets
Click here to book your tickets
.
---
Daily worship: services within the Cathedral
Sunday

Book of Common Prayer Eucharist (Our Lady Undercroft)
08.00
Matins (Jesus Chapel)
09.00
Cathedral Eucharist (Nave) – pre-booking required (click here to book online)*
10.30
Evensong (Nave)
17.30

Monday - Friday

Matins (Jesus Chapel)
07.30
Eucharist (Our Lady Undercroft)
08.00
Evensong (Nave)
17.30

Saturday

Eucharist (Our Lady Undercroft)
08.00
Matins (Jesus Chapel)
09.00
Evensong (Nave)
17.30
We advise that you limit your close social interaction to your own household and up to one other, wherever possible, before, during and after these services. All are welcome and there is no charge to attend a service.
* Even when tickets run out for our 10.30 Sunday Eucharist, we may have space to admit those who show up on the day on a first-come first-served basis. The service will also be broadcast online at 12.00 (see below).
Daily worship: online services
The following services are broadcast on our homepage and on the Cathedral's YouTube channel.
To receive notifications when new videos are available, please
subscribe to our YouTube channel
.
---
For more than 1,400 years God has been worshipped in Canterbury Cathedral. With its roots in the Benedictine tradition, the ongoing daily pattern of morning and evening prayer and Eucharist (Holy Communion) continues the prayers and praises of countless generations.
Canterbury Cathedral has housed a pipe organ for over a millennium. Today our main 'Father' Willis organ in the Quire has reached the end of its life. Extensive plans to restore and enhance the instrument and address urgent conservation of the surrounding 12th Century structures have been developed. Works began in the Cathedral in January 2018 and will continue to early 2020. Find out more about the Canterbury Voice and the organ project here.
For details of Cathedral clergy, please visit our 'Who Does What' page.
Please note that bag searches may be carried out. To keep delays to a minimum, visitors are asked to avoid bringing large bags or backpacks. The searches are not in response to intelligence of any particular threat relating to Canterbury Cathedral, but we take the security of staff, volunteers, visitors and worshippers very seriously, and we hope this will help reassure all who come to the Cathedral.
Share