Evening closure of Precincts, Tues 26 – Sat 30 September
Due to the Luxmuralis light show and the need to manage large queues, public entry to the Precincts after 17:30 will only be possible for Luxmuralis ticket holders or those attending Choral Evensong.
Planning your visit? Remember to check our upcoming closures.


Canterbury Cathedral has been a major pilgrimage destination for many centuries.
Today, we continue to welcome thousands of people every year, both setting out on, and finishing, their journey of pilgrimage.
Pilgrimage
What is Pilgrimage?
A pilgrimage is a devotional practice which consists of making a special journey to a place of spiritual significance.
The reasons people take the pilgrim road are varied. For some it is to deepen their faith and knowledge of God, for others it is to reflect on change in their lives or to seek healing, while for others it is an opportunity to reengage with the natural world and themselves through human encounters and the challenge that the journey often brings. 
A pilgrimage is inherently a transient experience as the pilgrim leaves the comfort of their home to embark on the new and unknown. It blends a spiritual purpose with physical practice that often leaves the pilgrim changed by their encounters and experiences. A pilgrimage can involve either a short or long journey and it may be in a group or alone, through the countryside or cityscape and can be done on foot, by bicycle, car or horse. 
The destination is a place of significance. Most pilgrim routes follow ancient paths, taking people to places made holy by events that have happened there, in the footsteps of those who have gone before them or which have an inherent spiritual significance.
Pilgrimage
Why Canterbury?
For over a thousand years, Canterbury Cathedral has been a place of significant pilgrimage. Whether this was to honour the bravery of St Alphege or to receive the healing water of St Thomas, pilgrims have journeyed to Canterbury along numerous pilgrim paths which crisscross the Weald and Down as they head east. 
Perhaps the most famous of these are the fictitious pilgrims of Chaucer's Canterbury Tales who followed the road from Southwark to the shrine of St Thomas at Canterbury, telling tales along the way. 
Today, pilgrims still follow the Pilgrim's Way but now it is a designated route, one coming down from Southwark and the other across from Winchester. Two further pilgrimage routes have been added to this: the Augustine Camino which marks Augustine's landing in Kent in 597 and journey to Canterbury, and the Via Francigina which follows in the steps of Archbishop Sigeric to Rome to collect his pallium.
Pilgrimage
A Modern Welcome
Canterbury Cathedral welcomes thousands of people every year, both setting out on, and finishing, their journey of pilgrimage.
The Cathedral is the destination for those who travel along the pilgrim paths from Winchester and Rochester. It is also the beginning of the Via Francigena route to Rome. If you are planning to complete the Via Francigena, please check with your chosen ferry company in advance of travelling whether they accept foot passengers or require advance booking.
Whatever the reason for your pilgrimage, we'd like to mark it with you. Priests are available throughout the day to offer a pilgrim blessing to those who are setting out and to offer prayers of thanksgiving for those who are arriving.
If you know in advance when you will be at the Cathedral, please get in touch with our Visits Office so that arrangements can be made. If you're unable to do that, please ask a member of staff when you arrive and we'll do our very best to find a priest to meet you.
Pilgrim's Pass and other printed pilgrimage materials are distributed to pilgrims who come to the Cathedral.
May your journey be in peace and safety, may you have good company on the way and joy in your arriving. And don't forget – the end is also a beginning!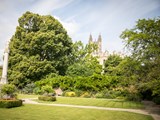 There seems to have been an error while submitting your feedback
Thank you for submitting your feedback
Add your feedback