Please submit your completed application by clicking the links below, then apply.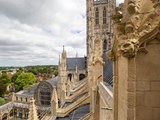 Highlighted vacancy
Individual Giving Manager
We are looking for someone to take our Individual Giving Programmes to the next level. These include our patrons and legacy schemes, congregational giving, and imaginative annual appeals.
Whilst the Cathedrals day-to-day operations are funded largely through visitors and other sources, we rely on donations from a range of supporters to fund conservation, education, music, and special projects.
You will be responsible for growing further our fundraising income and our supporter/donor reach. In support of these programmes, you will also hold the lead responsibility for administrating and managing our Donorfy database.
Candidates will have the option to work flexibly.
Our vacancies
Please use the arrows to click through and view all our vacancies.
Subscribe to our weekly job vacancy alert emails
By adding my email I confirm my subscription to the newsletter and understand that the email address provided will be held by the Cathedral and the email service company (mailchimp) to use for distributing this newsletter only. For more information please see the Cathedral Privacy Notice.
What happens after I have applied?
All potential candidates are required to submit a CV via our online recruitment system and complete a variety of set application questions.
Unless stated otherwise, all applications must be received by midnight on the closing date, we are unable to accept applications submitted after this time. Applications will then be considered with respect to the criteria outlined for the post in the Job Description, this outlines the skills, knowledge, qualifications and any additional attributes required for the role. Candidates are considered based on the information they have supplied in their application, it is therefore important to provide clear evidence and examples demonstrating how you meet the criteria for the post.
The Interview Process
Having applied for a post at the Cathedral, you may be shortlisted and offered an interview.
If you are selected for interview, we will give you as much notice as possible. All our interviews are conducted by a panel of two people or more. Depending on the post you have applied for, you may be asked to deliver a presentation or participate in a work-related test. Your interview letter will give you any relevant details.
After the interview you will be contacted as soon as possible to inform you whether or not you have been successful.
It is our practice to advise all applicants of the outcome of their application at all stages in the process.
Job Offers
We hope you are successful at interview. A job offer will be made to you giving you all the detail you will need about working with us.
We are required by law to ensure all staff have the right to work in the United Kingdom and if you are offered a post, we will ask you to bring proof of your ID such as a passport or birth certificate. Some of our vacancies are subject to a Disclosure and Barring Service and a medical check. The job description will detail if this is a requirement and details will be sent to you when a job offer is made.We're really proud of our reputation as a great place to work and we hope you will be keen to join our team.
If you have any questions or concerns, please contact the HR department:
Email: [email protected]
Tel: +44 (0) 1227 865218
Regrettably, we are not able to accept speculative applications but please do keep an eye on these pages for a vacancy of interest.
We regret that Canterbury Cathedral is not able to offer staff parking on site.
There seems to have been an error while submitting your feedback
Thank you for submitting your feedback
Add your feedback