What might your gift fund?
Why do we need your help?
Spring is a special time at Canterbury Cathedral. Hope returns following the winter, beautiful daffodils bloom in the gardens, and the joyful sun warms the Cathedral's ancient stone walls.
Spring is a time for looking forward, for growth and for new chapters to begin. This has been true for each of the 1,400 years that there has been a Cathedral in Canterbury; throughout the Dissolution, the Reformation, the Civil War, World Wars and most recently, the Covid-19 pandemic. With your help we can ensure that Canterbury Cathedral and all its impact on the world will continue for every spring season there is yet to come.
At a time when everyone's funds are being stretched ever thinner, this Spring Appeal strives to show you what an incredible impact your gifts make to all of the core aspects of our work – ministry, music, conservation and heritage – including real examples of how your gift could help. One-off, monthly and annual gifts of all sizes truly go a long way and make a big difference to this special place.
Canterbury Cathedral's work spans historic craftsmanship, heritage trades, a musical tradition more than 800 years old, an Archives and Library of local, national and international significance and an inherited ministry at the centre of the worldwide Anglican Communion.
Past, present and future meet in the Cathedral Precincts – we honour our 1,400 years of history and provide meaningful experiences every day. It is imperative that we secure the future of this extraordinary place.
Please make a one-off, monthly or annual donation to support every aspect of the Cathedral's work.
Thank you.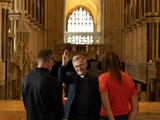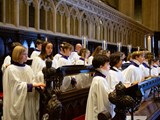 We are so grateful for any and all gifts in support of our work.
Thank You.
There seems to have been an error while submitting your feedback
Thank you for submitting your feedback
Add your feedback