Evening closure of Precincts, Tues 26 – Sat 30 September
Due to the Luxmuralis light show and the need to manage large queues, public entry to the Precincts after 17:30 will only be possible for Luxmuralis ticket holders or those attending Choral Evensong.
Planning your visit? Remember to check our upcoming closures.


Dates September - December
Canterbury Cathedral Library Tours
The Cathedral Library collection includes books on a range of subject matters from the early decades of printing onwards, including books from some of the earliest European printing presses.
Join a 45-minute guided tour in the Library building on selected Wednesdays to learn more about the Library and its collections, and explore some of the collection close-up.
Available dates:
Wednesday 20 Sept, 14:00-15:00
Wednesday 4 Oct, 14:00-15:00
Wednesday 18 Oct, 14:00-15:00
Wednesday 1 Nov, 14:00-15:00
Wednesday 6 Dec, 14:00-15:00
Tour costs £8 per person. Admission to the Cathedral not included.
Pre-booking required, not suitable for under 12s.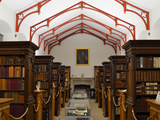 There seems to have been an error while submitting your feedback
Thank you for submitting your feedback
Add your feedback