Evening closure of Precincts, Tues 26 – Sat 30 September
Due to the Luxmuralis light show and the need to manage large queues, public entry to the Precincts after 17:30 will only be possible for Luxmuralis ticket holders or those attending Choral Evensong.
Planning your visit? Remember to check our upcoming closures.


Free evening entry to Cathedral Precincts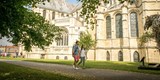 For the first time since the Coronavirus pandemic, Canterbury Cathedral will resume free evening entry to its Precincts grounds.
Beginning Wednesday 10 August 2022, between 17.00 and 21.00 daily, individuals and families will be able to enjoy free access for a quiet walk through the beautiful green spaces of the South Side Precincts of this stunning UNESCO World Heritage Site.
Maintaining a centuries-old tradition, the daily 21.00 closure of The Precincts will be marked by the Cathedral's curfew bell.
Though the Cathedral Church building itself will be closed – last admission for visitors is at 16.00 – all are welcome to attend the daily Choral Evensong service at 17.30, and the Cathedral's Constables and stewards will be on hand to help with any enquiries. As with all of the Cathedral's services of worship, there is no charge to attend, and all are welcome.
Terms and conditions of free evening entry to The Precincts:
Free evening entry to The Precincts is for individuals and families only. No group visits or guided visits are permitted.
Free evening entry is offered between 17.00 & 21.00 daily. This may change at short notice due to services or exceptional circumstances.
Only the South side of The Precincts will be open to the public. The Cathedral Church and the North Side of The Precincts, including The Great Cloister, will be closed.
Access to the Cathedral Precincts is via Christ Church Gate in the Buttermarket only.
There is no vehicle access to The Precincts.
Day visitors will need to leave the Cathedral Church building by 17.00 but can stay within The Precincts until 21.00, and are welcome to attend Choral Evensong at 17.30.
Free evening entry to the Precincts is a pilot project, and will be reviewed by the Cathedral during October 2022 half term.
The Cathedral reserves the right to amend or restrict access to The Precincts at any time, and to request visitors to leave the site if necessary.
For details of daytime visits to the Cathedral and Precincts, including opening hours, ticket prices, and free access for local Precincts passholders, see https://www.canterbury-cathedral.org/visit/
There seems to have been an error while submitting your feedback
Thank you for submitting your feedback
Add your feedback