Evening closure of Precincts, Tues 26 – Sat 30 September
Due to the Luxmuralis light show and the need to manage large queues, public entry to the Precincts after 17:30 will only be possible for Luxmuralis ticket holders or those attending Choral Evensong.
Planning your visit? Remember to check our upcoming closures.


When our Cathedral Choir is on holiday, we are pleased to welcome a wide range of visiting choirs to sing at the office of Evensong, and at Eucharist on Sunday mornings.
These choirs substantially enrich our worship. Simultaneously, singers enjoy the transformative experience of singing in this magnificent place. 
Sing at the Cathedral
If you are interested in bringing your choir to sing at Canterbury Cathedral, and would like to find out more, please contact Ian Roberts, Music and Liturgy Administrator (Visiting Choirs).
As part of your application, we will ask for a recent recording of your choir singing repertoire that would be suitable for inclusion in worship at the Cathedral.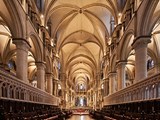 Informal Midday Recitals
We offer choirs the opportunity to give informal midday recitals in the Cathedral. The recitals take place in the Quire and last a maximum of 30 minutes. Further information and details of fees can be found on the Recital Notes for Choirs; for more information, please contact the Cathedral's Visits Office.
For information about forthcoming Informal Midday Recitals, please see the Cathedral's Events Calendar.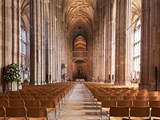 Private hire for concerts and events
Areas of the Cathedral are available to hire for choirs wishing to perform outside visiting/worship times. Please contact our Events Office for availability and terms & conditions.
There seems to have been an error while submitting your feedback
Thank you for submitting your feedback
Add your feedback