Evening closure of Precincts, Tues 26 – Sat 30 September
Due to the Luxmuralis light show and the need to manage large queues, public entry to the Precincts after 17:30 will only be possible for Luxmuralis ticket holders or those attending Choral Evensong.
Planning your visit? Remember to check our upcoming closures.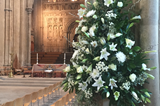 Leaving a legacy to Canterbury Cathedral is one of the greatest gifts you can give; it will help ensure the future of the Cathedral for generations to come.
Our generation has a responsibility to ensure the traditions of choral music, lifelong learning and excellence in craft skills begun by our ancestors are continued here at Canterbury Cathedral now, and for the future.
If you are thinking of writing, or making changes to, your will we would be delighted if you would consider leaving a gift to Canterbury Cathedral. Your bequest would make an incredible difference to the long-term sustainability of this special place and would help ensure the work started in your lifetime is continued into the future – engaging, teaching and being improved upon by new generations. 
If you are thinking of leaving us a legacy and would like further information please email [email protected] or call 01227 865343 for a confidential, no obligation chat. 
Thank you.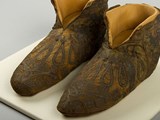 Augustine Legacy Circle
We are delighted to welcome those that leave a bequest in their will to join our Augustine Legacy Circle; a like-minded group of people who all share a passion for protecting our Cathedral for the future. In gratitude for this gift, members of the Circle will:
Receive an invitation to annual Augustine Legacy Circle event at the Cathedral
Have updates from the Cathedral including the Fundraising Newsletter
Be among the first to hear about special events at the Cathedral
Receive recognition of their support on the Cathedral's website
Leaving a legacy in your will is an incredible gift, and a thank you for a lifetimes worth of blessings. We are so grateful that you are choosing to remember Canterbury Cathedral and look forward to welcoming you here soon.
Making your legacy gift
Strategic gifts, like your bequest, will make a significant difference to the long-term sustainability of the Cathedral, ensuring the work started in our lifetime is continued into the future. We always recommend that you consult with a solicitor before writing, or making changes to, your Will.
Residuary Legacies
A gift of what's left of your estate – or a percentage of it – after all other gifts have been made and debts cleared.
Pecuniary Legacies
A gift of a sum of money.
Specific Legacy
A particular named item left as a gift in your Will such as a property or artefact. If this is the case, please contact us to discuss this before amending your Will.
The priorities of Canterbury Cathedral are constantly changing, subject to the needs of the building, the local community, and our visitors. The most beneficial gift to the Cathedral would be an unrestricted bequest for its general purposes, allowing us to make the best use of your gift at the time we receive it.
Suggested wording
I give to Canterbury Cathedral (state the % residue or sum of money you wish to give) and request without obligation that it be used:
To support their general work
To conserve the Cathedral's fabric
To support education programmes
To support the Archives and Library
There seems to have been an error while submitting your feedback
Thank you for submitting your feedback
Add your feedback