Evening closure of Precincts, Tues 26 – Sat 30 September
Due to the Luxmuralis light show and the need to manage large queues, public entry to the Precincts after 17:30 will only be possible for Luxmuralis ticket holders or those attending Choral Evensong.
Planning your visit? Remember to check our upcoming closures.


Why are In Memory gifts so special?
When we lose someone close to us we grieve in many ways. We hold funerals and wakes, talk about our memories and frame our favourite photographs. Grieving is so important in helping us come to terms with sadness and celebrate the lives of those who have died. We hope that it might feel meaningful for you to remember your special person by donating in their memory to Canterbury Cathedral. 
Canterbury Cathedral is a special place. The echoes of our 1,400 year old community can be heard in our beautiful music, international ministry and the peaceful spaces of the Cathedral and its Precincts. The memory of your loved one will be kept alive through the permanence of our everlasting tradition. 
You can make a one-off gift in memory of someone special, set up a monthly donation in their memory, or perhaps make an annual gift on their birthday or a special anniversary. A donation of any size will be greatly appreciated and will help the Cathedral continue as a beacon of hope for another 1,400 years.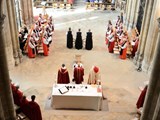 Every gift In Memory will be acknowledged with:
Your loved one's name in our online Book of Remembrance - click here to see it.
An invitation to the next Benefactors' Service so that you are present at the blessing of those remembered in the Book of Remembrance; and
A keepsake Canterbury Cathedral In Memory card.
Gifts of £1,000 and over may be restricted to Stone Conservation, the Archives and Library, Stained Glass or Music and can lead to:
Initials carved on the inside of a new stone to be fixed on the building;
A dedication inside the conservation housing of a historic book or document in our Archives and Library;
A name engraved on the leadwork of the protective glazing of our stained glass; or
Music at a service of your choice dedicated to your loved one's memory.
Please do get in touch to tell us more about the person you would like to remember, or to discuss making a gift, at [email protected] or 01227 865343. It would be lovely to hear from you.
Thank you.
There seems to have been an error while submitting your feedback
Thank you for submitting your feedback
Add your feedback