Join the Choir: Girl Chorister Auditions
When is it?
Saturday 24 June from 10am
Canterbury Cathedral
Booking Required
On Saturday 24 June 2023, Canterbury Cathedral will host auditions for prospective girl choristers currently in school year 7, to join the choir in September 2023.
Girl choristers sing regularly at services in the inspiring surroundings of Canterbury Cathedral, one of the world's great historic buildings.
Please register by 12pm on Wednesday 21 June 2023 to receive an audition time.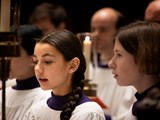 What we're looking for
The Director of Music is looking primarily for children with a love of singing, with a flair for performing, and with a good musical ear (i.e. an ability to recognise and imitate pitch and rhythm).
Whilst previous experience of singing or playing a musical instrument is welcomed, it is by no means essential.
Audition
Auditions, which are informal in nature, generally last between 10 and 15 minutes.
All prospective choristers will be asked to:
participate in an informal warm up;
sing back pitches played to them on the piano;
sing scales (no previous experience necessary);
clap back a rhythm clapped to them;
read out loud (not sing!) a passage from a book, which will be given to them in the audition;
sing a short pre-prepared piece of their own choosing, not more than a few minutes long.
A conversation between Cathedral Music staff, the prospective chorister and their parent(s)/guardian(s) forms the final part of the process.
Auditions should be booked in advance with the Cathedral Music Department.
Please register by 12pm on Wednesday 21 June 2023 to receive an audition time.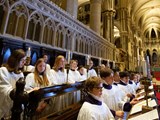 Register for an audition
To register for an audition, please email our Music Department with the following details:
Name of parent(s)/guardian(s)
Email address
Phone number
Girl's name
Girl's current school year group
Timings for the auditions will be confirmed prior to the day.  Please note that parents/guardians are asked to stay at the Cathedral with their child throughout.
There seems to have been an error while submitting your feedback
Thank you for submitting your feedback
Add your feedback