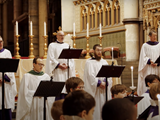 Lay Clerks
The Lay Clerks are a team of professional adult singers who provide the alto, tenor and bass parts for the wide-ranging choral repertory of the Cathedral Choir.
The Lay Clerks continue a long tradition of adult singing in the Cathedral that extends back in name to the period following the English Reformation of the 1540s, and who became in effect the successors of the monastic singers who would have enhanced the worship in the building throughout the Medieval period. Notable holders of Lay Clerkships at Canterbury in the past have included the great 16th-century composer Thomas Tallis, and the celebrated 20th-century countertenor Alfred Deller.
Today's Lay Clerks bring a wealth of experience to the music and liturgy of Canterbury Cathedral, with many active in other musical arenas such as teaching, composing, performing, academic research and conducting, as well as working in a variety of non-musical professions alongside their Cathedral duties.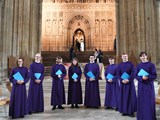 Choral Scholars
Since September 2021, the Lay Clerks have been joined by four Choral Scholars.
These outstanding early-career singers spend a year in Canterbury, where they are given the opportunity to develop their musical talents and career ambitions, while enriching the musical life of the Cathedral by singing at services and events as an integral part of the Cathedral Choir.  The Scholars also participate in engagement work with the many communities that the Cathedral serves, including recent workshops for local schools held in partnership with Glyndebourne and the Marlowe Theatre.
The Choral Scholars initiative is being funded through the generosity of our supporters, including the Benefact Trust. For more information on how you can contribute, please contact [email protected]
There seems to have been an error while submitting your feedback
Thank you for submitting your feedback
Add your feedback