Major Cathedral stained glass window research continues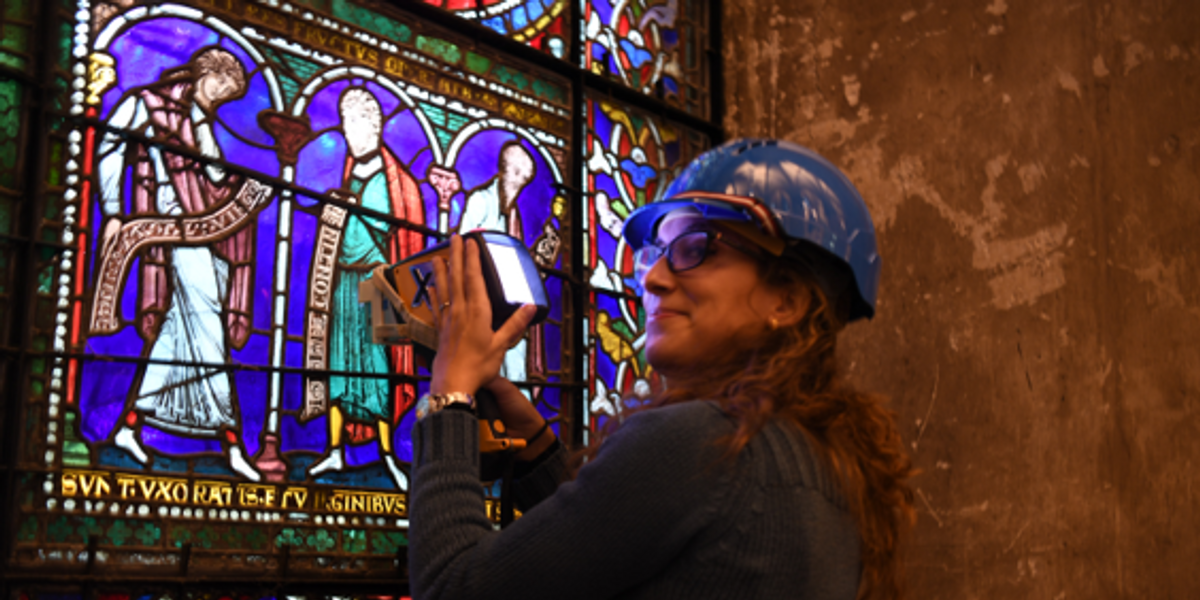 This week a team of experts and academics from University College London returned to the Cathedral to create a set of scans on The Typological Windows, also known as the 'Bible Windows' in the North Quire aisle.
The team are analysing the windows using a non-destructive method of chemical analysis known as portable x-ray fluorescence, which enables a non-destructive way of analysing the glass, without the need to remove physical samples from the windows.
The team are hoping to investigate the complex chemical composition of the different glasses in the windows, which may throw light upon the sources, suppliers, and chronological production phases.
The glass in the two windows comprise glass from at least four windows made between 1176 and 1180, so the team are hoping to see if there are differences between windows made in such a short period of time.
Last year the team analysed the Cathedral's Ancestor Window's to discover they are amongst the oldest in Europe:  Study suggests Cathedral's Ancestor windows among oldest in Europe – Canterbury Cathedral (canterbury-cathedral.org)
Léonie Seliger, Director of Stained Glass Conservation at Canterbury Cathedral has said:
 "It is very exciting to be part of a project that brings together material scientists, art historians, as well as conservators and craftsmen. Through this collaboration, we are developing new ways of analysing and interpreting data, and are creating a more detailed understanding of the history of our windows."
The research is funded by a British Academy Leverhulme Grant, and builds on the work carried out on the three Ancestor Windows. It also incorporates scans of the Becket Miracle Window that was on display in the British Museum, which were taken last year. Between the three windows (two Typological Windows and one Miracle Window), over 2000 pieces of glass will be scanned and analysed!
The data analysis will be completed by September 2022.
Main pictures is of Dr Agnese Benzonelli, Archaeological Material Scientist, scanning the windows. 
Share