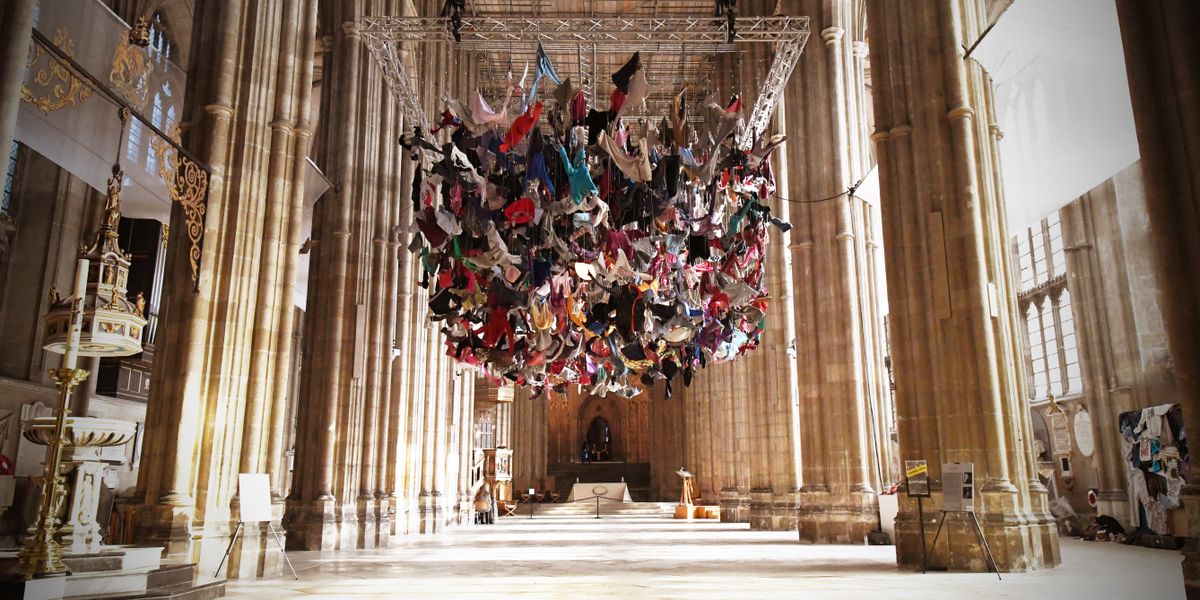 An evocative artwork highlighting the plight of refugees around the world is to be hung in the Nave of Canterbury Cathedral.
Suspended by the British artist Arabella Dorman is made up of hundreds of items of refugee clothing, found largely on the beaches of the Greek island of Lesbos and kindly donated by the Starfish Foundation and the Dirty Girls of Lesvos charities.
The clothing appears to hover approximately three metres above the ground and the installation is lit from the centre so that the clothes are seen clearly and then lost in shadow. As the installation brightens, it represents the light of hope by which a refugee is carried forwards. As it dims, it seeks to remind the viewer that refugees may be left unseen and in darkness if their situation is forgotten.
Suspended had its first showing in St James's Church in London's Piccadilly (pictured above) and attracted international attention as the capital's "most talked about contemporary artwork" (New York Times 22 December 2017) when it opened ten days before Christmas.
Included amongst the clothes hung in Canterbury are those left behind in the makeshift camps set up in Calais.
Ms Dorman said: "My interest lies in the men, women and children behind the headlines, the individual stories behind the politics. I attempt to illuminate and to reveal the human face of conflict, and to find light in the darkest corners of existence."
Read more about the exhibition here.
The exhibition is on show 23 February – 16 May 2018 during usual Cathedral opening hours. The artwork is free to see, but normal Precincts charges apply.