Making History: Church, State and Conflict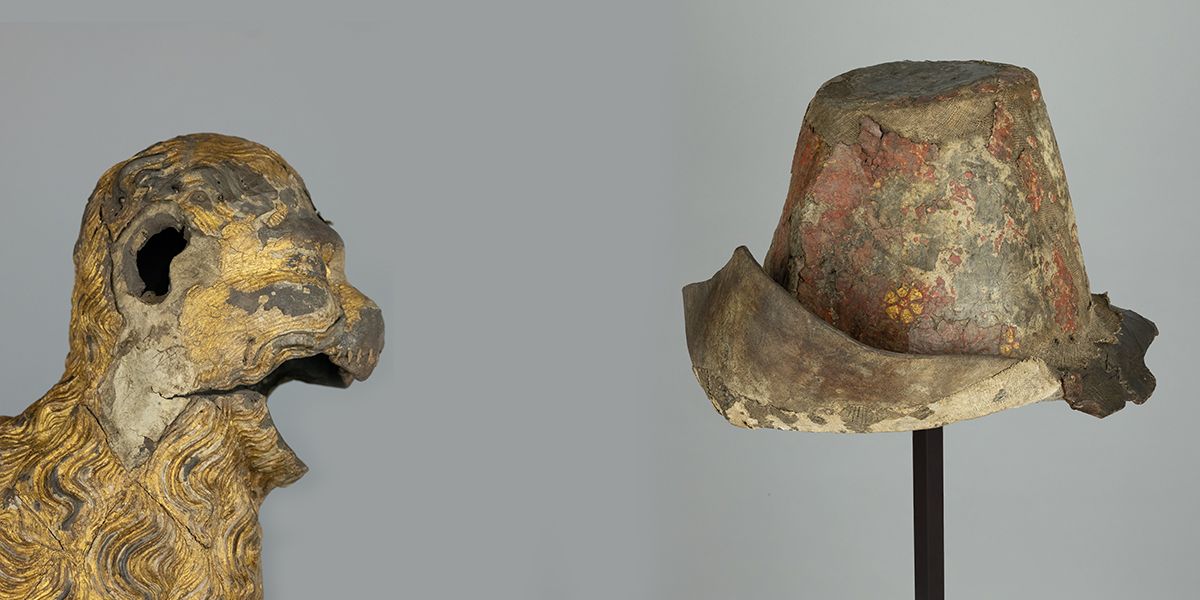 A major new exhibition in Canterbury Cathedral's Crypt allows visitors to explore up close, for the first time, a unique collection of artefacts – including the battle shield, gauntlets and jupon of medieval warrior Edward The Black Prince, and fragments of Thomas Becket's shrine – that tell the complex, and often violent, story of Church-State relations.
The exhibition focuses on the complex relationship between Church and State and the struggles between archbishops and kings, with a particular focus on Canterbury Cathedral's important role within this relationship, illustrated in the Cathedral's buildings, collections, and the stories of its people.
The national and international dimensions of Church-State relations will also be explored, including how they have changed and developed over the centuries – from the Cathedral's 6th-century origins, through the upheaval of the later Anglo-Saxon period, to the remodelling of both buildings and religious practice forced by the Norman Conquest, and beyond.
Amazing objects that visitors will be able to see in the exhibition include:
Grant from William de Tracy – one of the four knights who murdered Thomas Becket in Canterbury Cathedral in 1170, de Tracy made this grant of 100 shillings (equivalent of approx. £10,000 today) as a penitential gesture for his role in the killing very soon after Becket was made a saint.
The Accord of Winchester – this 11th-century document, witnessed by William the Conqueror, his queen, Matilda, and Lanfranc, the Archbishop of Canterbury, amongst others, records the settlement establishing the supremacy of the Archbishop of Canterbury over the Archbishop of York. Each witness subscribed to the agreement by marking crosses, presumably in their own hand.
Papal Mandate from Innocent III – in this document from 1205, Pope Innocent III orders King John to accept Reginald, sub prior of Christ Church Priory, as elected Archbishop of Canterbury. However, John refused and the country was cast out of the Church.
The Lyghfield Bible – the finest example of a complete illuminated book from the collection now held at the Cathedral, The Lyghfield Bible is a late 13th-century, 690-leaf, pocket Bible, written on high quality parchment or vellum.
21 pilgrim badges featuring Thomas Becket's likeness. On loan from Canterbury Museums and Galleries.
The Liudhard Medalet – the first known piece of Christian art made in England after the arrival of the Anglo-Saxons, this 6th century gold medalet shows Bishop Liudhard, whose arrival in Kent from the Frankish court started the conversion of the Anglo-Saxons to Christianity. On loan from National Museums Liverpool.
The Canterbury Cross – a significant example of Anglo-Saxon Christian art with deep connections to the religious and cultural heritage of the city of Canterbury and the wider Anglican Communion. On loan from Canterbury Museums and Galleries.
Find out more about The Black Prince's Cap of Maintenance – one of the artifacts being exhibited – in the video below.
Share