Great British Fish and Chips Exhibition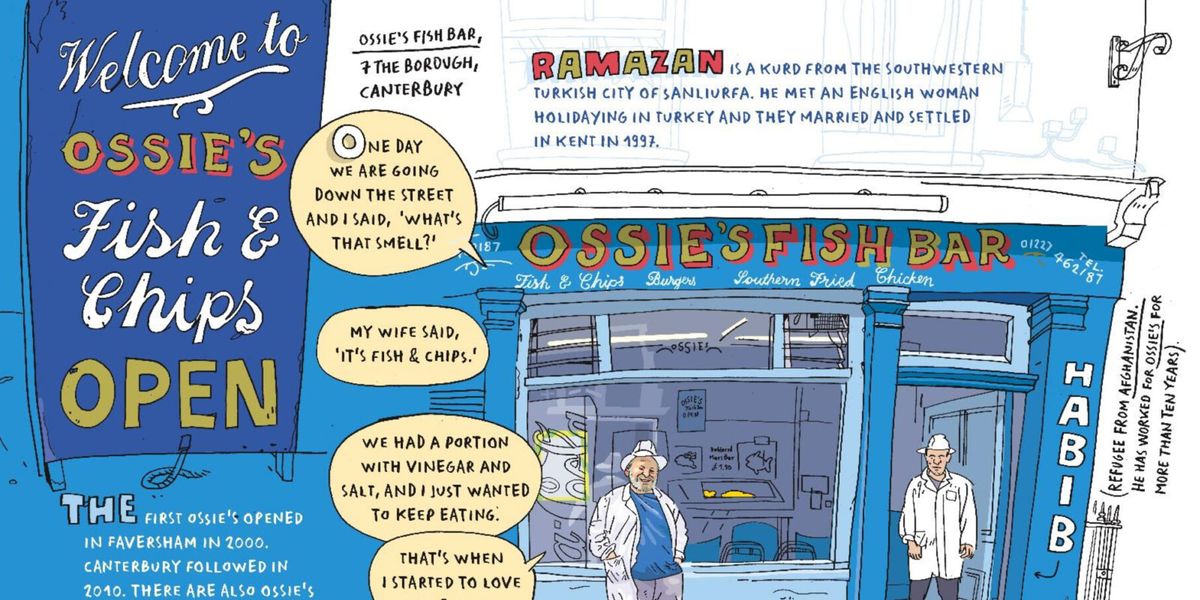 A new commission from artist Olivier Kugler and writer Andrew Humphreys, will be on show at Canterbury Cathedral from 19 July 2021 as part of our Refugee Week programme.
The commission shares everyday stories of migration connected to Kent's most celebrated high street food.
For the 'Kent Fish & Chips' Project Kugler and Humphreys have interviewed owners, staff and customers at Fish & Chips shops across Kent. Migration and displacement are central themes.
Fish & chips can be traced back to Huguenot and Jewish arrivals in the UK and people from all over the world continue to be central to the farming and fishing industries and the high street shops.
Featured Fish & Chip shop owners are:
Beach Buoys, Margate: Nadine and Simon Morriss

Best Fish & Chips, Tankerton, Whitstable: Elvan Bodur

Ossie's Fish & Chips, Canterbury: Ramazan Altun

Reliance Fish Restaurant, Gravesend: Jack Kamenou

Walmer Fish & Chips: Giancarlo and Carolina
The artwork will be exhibited as the central part of the Kent Fish & Chips Project, which also includes related art and research activity in local schools. It is a commission from Counterpoints Arts, in partnership with Turner Contemporary and Canterbury Cathedral. An exhibition of the work is also available to view at Turner Contemporary.
Share