Drawn to Light: The Hidden Cathedral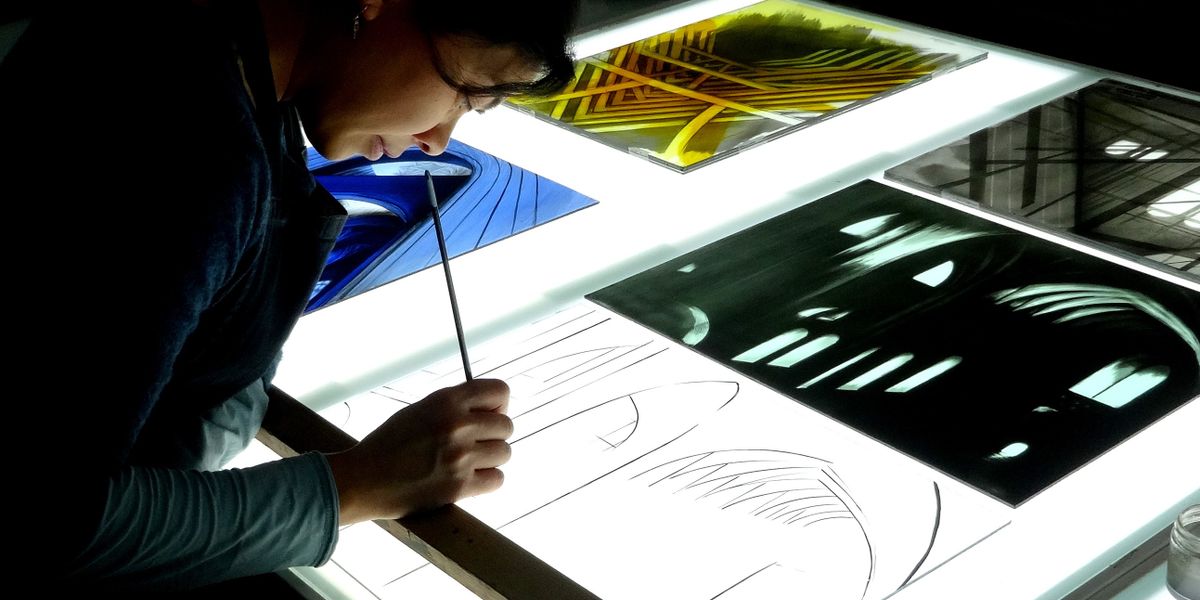 'Drawn to Light' brings together an inspiring series of work by Stained Glass Artist, Grace Ayson. These atmospheric drawings and contemporary paintings on glass explore the Cathedral's hidden spaces. Inspired by her familiarity with the seldom seen aspects of this world-famous building, Grace explores the Cathedral and its Precincts. The exhibition is a dual show spanning the Cathedral Crypt Treasury and in The Drawing Room at The Beaney House of Art & Knowledge.
Grace Ayson is a Stained Glass Conservator and Glass Painter here at the Cathedral Stained Glass Studios. Grace trained in Fine Art and Sculpture BA (hons) from the Kent Institute of Art and Design (UCA) in 1994-7 before forging a career in the Arts and Historic Building Conservation. Grace also won the Ashton Hill Award from the Worshipful Company of Glaziers and Glass Painters. This enabled her to undertake an internship in Stained Glass at The Cathedral Studios in 2006 and she has been here ever since. Grace has worked on many projects with The Cathedral Studios conserving and restoring the stained glass windows across the Cathedral as well as producing new windows on commissions. She also exhibits her drawings and work in group and solo shows across the country.
The exhibition runs until 15 October 2017.
Please note: entry to The Beaney is free, but Normal Precincts Charges and Crypt Treasury opening times apply at the Cathedral, see here.