Becket Holy Relic Display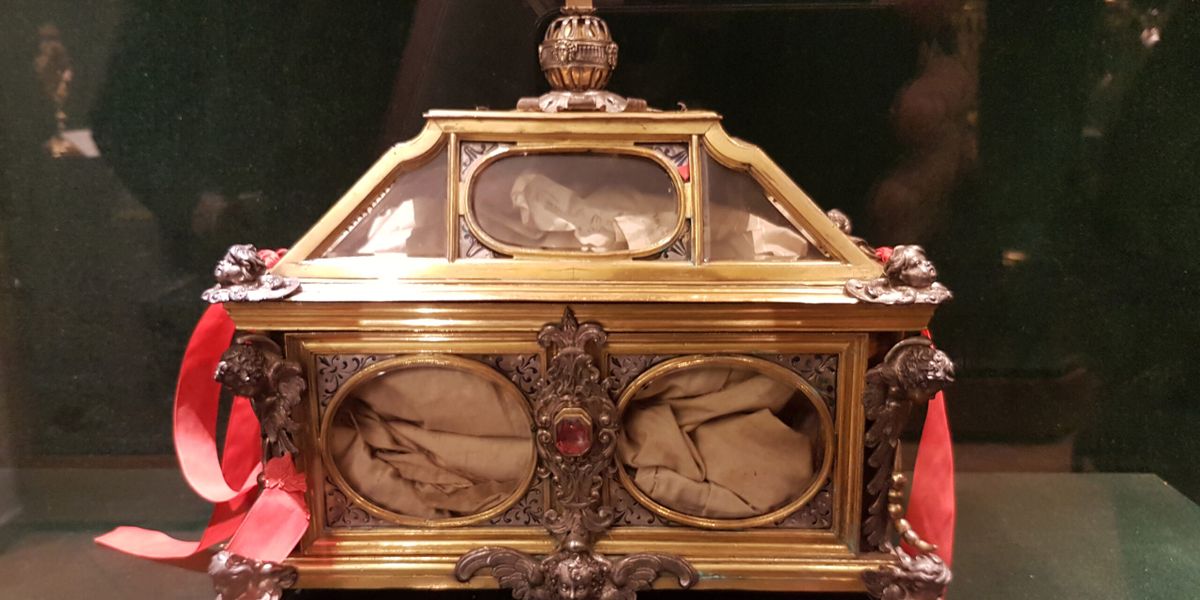 A vestment traditionally thought to have been worn by Saint Thomas Becket at the time of his brutal murder in Canterbury Cathedral in 1170 is to return to the UK in July as part of this year's commemorations to mark 850 years since his death, and 800 years since his remains were moved from the Cathedral's crypt into a new shrine.
The holy relic consists of the 12th century garment – referred to as a tunicle – housed inside an exquisite 17th century glass reliquary. Venerated by pilgrims for hundreds of years, the artefact will be a focus for prayer for the thousands of pilgrims expected to come to Canterbury this summer, and will give historical perspective to the Bishops of the worldwide Anglican Communion attending the 2020 Lambeth Conference in Canterbury during this time.
The relic can be viewed during normal Cathedral opening hours. Please note on the weekend of the 4 and 5 July, the relic may be closed to public viewing at short notice. Find out more about the relic here.
Relic Evensong
A series of special evenings have been planned while the relic is in Canterbury, where the congregation will have the opportunity to visit the relic after attending Evensong. These will be held on the following dates, all are very welcome to attend:
Monday 6 July
Monday 13 July
Monday 20 July
Wednesday 29 July
Monday 3 August
Planned Closures
Please be aware closures will be in place on the following dates:
Thursday 25 July – Crypt closed all day (Relic not available)
Friday 24 July – Crypt closed until 14.00 (Relic available from 14.30-17.00)
Sunday 26 July – Crypt closed until 14.00 (Relic available from 14.30-17.00)
Sunday 2 August – Crypt closed from 12.00 (Relic available from 9.00-12.00)
Share