Evening closure of Precincts, Tues 26 – Sat 30 September
Due to the Luxmuralis light show and the need to manage large queues, public entry to the Precincts after 17:30 will only be possible for Luxmuralis ticket holders or those attending Choral Evensong.
Planning your visit? Remember to check our upcoming closures.


Dates in October
Cathedral Precincts Tour
Discover how the Cathedral was first built and altered over time.
You will uncover Romanesque architecture and Gothic-style craftsmanship that make the outside of the Cathedral just as fascinating as the inside.
Hear why the Cathedral Crypt is above-ground and how the feet of Stephen Langton, a major influencer of the Magna Carta, are out in the cold.
Learn about the previous inhabitants of the Precincts, the Benedictine Monks of Christ Church Priory, who walked these Precincts for centuries.
Please note, all aspects of this tour will be outside.
Available dates:
Fri 6 October, 12:15-13:30
Fri 13 October, 12:15-13:30
Fri 20 October, 12:15-13:30
Fri 27 October, 12:15-13:30
£5 per person, plus admission charge. Book at our Visitor Centre.
For more information about this tour, please email [email protected]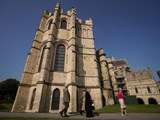 There seems to have been an error while submitting your feedback
Thank you for submitting your feedback
Add your feedback