Wednesday 6 Dec, 14:00-15:00
Canterbury Cathedral Library Tours
*LAST DATE IN 2023*
The Cathedral Library collection includes books on a range of subject matters from the early decades of printing onwards, including books from some of the earliest European printing presses.
Join a 45-minute guided tour in the Library building on selected Wednesdays to learn more about the Library and its collections, and explore some of the collection close-up.
Tour costs £8 per person. Admission to the Cathedral not included.
Pre-booking required, not suitable for under 12s.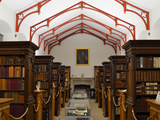 There seems to have been an error while submitting your feedback
Thank you for submitting your feedback
Add your feedback