18 May to 6July 2023, 18.30
The Works of Mercy: Being the Hands and Heart of Christ
Join us for an eight-part series of free, evening talks given by those who work with the most vulnerable in our society.
18 May – Introduction to the Works of Mercy
Rev'd Dr Jonathan Arnold, Director of the Social Justice Network
25 May – Harbour the Homeless
Rev'd Jo Richards, Chaplain to the Homeless
31 May – Visit the Sick
Rev'd Dominic Fenton, Former Hospital Chaplain
8 June – Give Drink to the Thirsty
Rev'd Patrick Ellisdon, former Ignite co-project leader
15 June – Feed the Hungry
Elizabeth Rooke and Helen Netherton of Connecting Canterbury
22 June – Welcome the Stranger
Dominica Pecoraro, the Diocesan Refugee Officer
29 June – Visit the Prisoner
Rev'd Nick Ash, Chaplain of HM Prison Elmley
6 July - Bury the Dead and Concluding Comments
Rev'd Dr Emma Pennington, Canon Missioner of Canterbury Cathedral
These are free events. Please book your place so that we have an idea of numbers for refreshments.
All are welcome, and you can attend as few or as many talks as you'd like.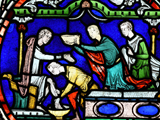 There seems to have been an error while submitting your feedback
Thank you for submitting your feedback
Add your feedback