Friday 5 May, 18.00
The FRIENDly Coronation Prom
The Central Band of the Royal British Legion returns to Canterbury Cathedral for a right royal celebration of regal music both classic and contemporary!
This is a concert for all ages to enjoy – come ready to wave your flags and raise the roof in celebration of our new King!
Adults £21.50, Children £11.50 (Incl. £1.50 booking fee per ticket).
Tickets are available from the Canterbury Festival Box Office.
This concert is a charity fundraising event in support of The Friends of Canterbury Cathedral. Registered Charity No 256575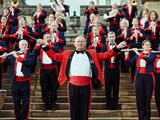 There seems to have been an error while submitting your feedback
Thank you for submitting your feedback
Add your feedback