Monday 8 May, 17.30-18.15
Evensong for the Big Help Out
Join us in person or live online for our special Evensong service - part of the national Big Help Out - as we celebrate the work of all volunteers and voluntary groups, including the Cathedral's own community of volunteers.
All are welcome, and there is no charge to attend a service.
Support Canterbury Food Bank
If you would like to support Canterbury Food Bank and the amazing work of their volunteers, please bring your gifts to the yellow donation bins at the Cathedral – you can see the latest list of required items via the Food Bank's app – or make a financial donation via the Canterbury Food Bank's website.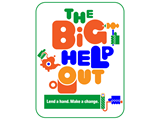 There seems to have been an error while submitting your feedback
Thank you for submitting your feedback
Add your feedback