Wednesday, 30 November, 10.30
Talk: Whose God is it Anyway
£8 Friends, £10 non-members, which includes tea and coffee on arrival.
Clagett Auditorium
The art and architecture of Islam has often been held to be very different from that of the west, bound by different and more rigorously enforced rules, but is that true?
Popular speaker and Friend, Imogen Corrigan, will look to see what the reality is and whether or not human and animal figures can be depicted. She will show many examples of ornate and graceful calligraphy on buildings as well as in manuscripts. It may be that eastern and western cultures have borrowed from and influenced each other in more ways than one might imagine. Imogen will consider what Islam and Christianity have in common, not just in their art forms, but in their practice and wonders whose God it is anyway: maybe it is not so much Who, but How?
Friends can book through their online Autumn 2022-Winter 2023 events booking form, and non-members can book tickets here.
The Friends are an important part of the Cathedral community who work to preserve this magnificent building by contributing financially to many vital projects. Find out more about them.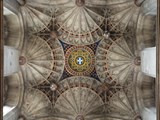 There seems to have been an error while submitting your feedback
Thank you for submitting your feedback
Add your feedback