Monday, 5 December, 10.30
Talk: Holy Birth and Sacred Beauty – The Nativity in Art
£8 Friends, £10 non-members, which includes tea and coffee on arrival.
Clagett Auditorium
The Nativity of Jesus is one of the most important subjects in Christian art. Drawing upon a wide range of biblical, theological, and cultural sources, artists have all responded differently to this sacred subject.
In this talk, Revd Dr Ayla Lepine (Associate Rector of St James's Piccadilly in London, and formerly the Ahmanson Fellow in Art and Religion at the National Gallery) will explore artists' diverse interpretations to the birth of the Son of God, from Botticelli in the Renaissance to the 'pop art nun' Sister Corita Kent.
Friends can book through their online Autumn 2022-Winter 2023 events booking form, and non-members can book tickets here.
The Friends are an important part of the Cathedral community who work to preserve this magnificent building by contributing financially to many vital projects. Find out more about them.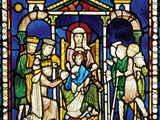 There seems to have been an error while submitting your feedback
Thank you for submitting your feedback
Add your feedback