Sunday, 18 December 2022, 17.30
Evensong by Candlelight for the Festival of Santa Lucia
Join us for Evensong by candlelight to celebrate the Scandinavian Festival of Light in honour of St Lucia (or St Lucy), who was one of the earliest Christian martyrs.
Originally held on the shortest day of the year, the Festival of Santa Lucia is meant to bring hope and light during the darkest time of the year.
Free to attend, and everyone is welcome.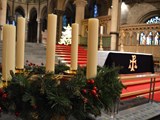 There seems to have been an error while submitting your feedback
Thank you for submitting your feedback
Add your feedback