Monday, 19 December 2022, 19.30 (doors open 19.00)
Demelza's Celebration of Christmas
Tickets from £8
A popular festive service with readings and carols to support Demelza, the local children's hospice care charity.
All tickets are allocated on a first come first served basis, tickets and seats cannot be reserved prior to booking. You will receive your tickets and seat numbers a couple of weeks before the event.
This event is organised and managed by Demelza.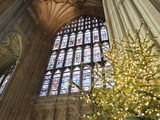 There seems to have been an error while submitting your feedback
Thank you for submitting your feedback
Add your feedback