Sunday, 25 December 2022, 11.00
Christmas Day Eucharist
A celebration of the birth of Christ led by the Most Reverend Justin Welby, Archbishop of Canterbury, with the clergy and choir of Canterbury Cathedral.
Everyone is welcome, and the service is free to attend.
Our standard 08:00 Holy Communion, 09:15 Matins, and 15.00 Choral Evensong services will also take place on Christmas Day. See our Events Calendar.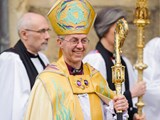 There seems to have been an error while submitting your feedback
Thank you for submitting your feedback
Add your feedback