Thursday, 29 December 2022, 15.00
Choral Evensong for St Thomas of Canterbury
All are welcome to attend a very special annual Canterbury Cathedral tradition to mark the martyrdom of Canterbury's most famous Saint.
We gather for a candlelit service of mediaeval chant and readings as we mark the day on which St Thomas was murdered in his own Cathedral.
Everyone is welcome, and the service is free to attend.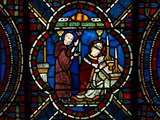 There seems to have been an error while submitting your feedback
Thank you for submitting your feedback
Add your feedback