Evening closure of Precincts, Tues 26 – Sat 30 September
Due to the Luxmuralis light show and the need to manage large queues, public entry to the Precincts after 17:30 will only be possible for Luxmuralis ticket holders or those attending Choral Evensong.
Planning your visit? Remember to check our upcoming closures.


Wednesday 20 December 2023, 19:00-20:00
The Friends' Carol Service
Everyone is welcome to attend our Friendly traditional Service in The Nave. Hear the Cathedral bells ring out to greet you as you arrive!
Free to attend.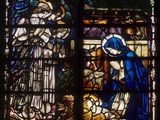 Who are The Friends?
The Friends are the Cathedral's fan club, a group of like-minded people who admire the building, its history and the community which surrounds it. We work together to preserve it, and, with the great generosity of our membership, contribute financially to many vital projects.
There seems to have been an error while submitting your feedback
Thank you for submitting your feedback
Add your feedback