Evening closure of Precincts, Tues 26 – Sat 30 September
Due to the Luxmuralis light show and the need to manage large queues, public entry to the Precincts after 17:30 will only be possible for Luxmuralis ticket holders or those attending Choral Evensong.
Planning your visit? Remember to check our upcoming closures.


Monday 25 December 2023, 23:00-00:10
Midnight Mass
The tradition of hearing the bell strike midnight and receiving the first Holy Communion of Christmas has been a long-held custom for many people, now it comes to Canterbury Cathedral.
In an hour long service, hear the song of the angels who appeared to the shepherds on a dark hillside long ago to give them the message of peace and goodwill.  Like them you are invited to journey to the manger in mind and spirit to receive the angel's message in the bread and wine of the Christchild.
With sublime music and in the beauty of the Cathedral Quire this is the special occasion that will be one of the high points of your Christmas day and to which all are welcome.
This service ends at midnight, marking the dawn of Christmas Day.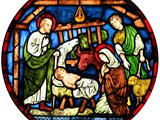 There seems to have been an error while submitting your feedback
Thank you for submitting your feedback
Add your feedback