Evening closure of Precincts, Tues 26 – Sat 30 September
Due to the Luxmuralis light show and the need to manage large queues, public entry to the Precincts after 17:30 will only be possible for Luxmuralis ticket holders or those attending Choral Evensong.
Planning your visit? Remember to check our upcoming closures.


Sunday 17 December 2023, 17:30-18:30
Festival of Carols
This family friendly event is the perfect way to get ready for Christmas.
Join the choristers and lay clerks of the Cathedral Choir as we sing popular Christmas songs and hear a range of readings which will bring out the joy and wonder of this special time.
Arrive early to guarantee the best seats in the Nave which will be filled with angels and goodwill.
Don't miss this new and exciting occasion which promises uplifting music, memorable words and the awe-inspiring beauty of the candlelit Nave to capture the peace and joy of Christmas.
The event lasts approximately an hour.
Please let us know beforehand if you require spaces for wheelchairs so that we can include the whole family.
Please note, no evensong/evening prayer this day.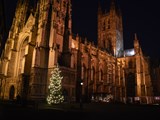 There seems to have been an error while submitting your feedback
Thank you for submitting your feedback
Add your feedback