Evening closure of Precincts, Tues 26 – Sat 30 September
Due to the Luxmuralis light show and the need to manage large queues, public entry to the Precincts after 17:30 will only be possible for Luxmuralis ticket holders or those attending Choral Evensong.
Planning your visit? Remember to check our upcoming closures.


Tuesday 19 December 2023, 19:30-21:00
Demelza House Carols
A popular festive service with readings and carols to support Demelza, the local children's hospice care charity.
All tickets are allocated on a first come first served basis, tickets and seats cannot be reserved prior to booking. You will receive your tickets and seat numbers a couple of weeks before the event.
Access is via pre-purchased tickets, which are available from the Demelza website.
This event is organised and managed by Demelza.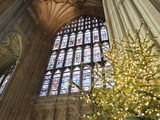 There seems to have been an error while submitting your feedback
Thank you for submitting your feedback
Add your feedback