Evening closure of Precincts, Tues 26 – Sat 30 September
Due to the Luxmuralis light show and the need to manage large queues, public entry to the Precincts after 17:30 will only be possible for Luxmuralis ticket holders or those attending Choral Evensong.
Planning your visit? Remember to check our upcoming closures.


Sunday 24 December 2022, 17:30-19:00
Cathedral Carol Service
Our main Carol Services are one of the highlights of the Cathedral's year, with music and readings to tell the story of the birth of Christ in an atmospheric service with candlelight.
Music is provided by all parts of our world-famous Cathedral Choir and by the singing of the traditional Christmas carols by the congregation. The service lasts between one and a quarter and one and a half hours.
This the second of two identical services, the first of which takes place on 23 December 2023 at 17.30. Both are un-ticketed and seated on a first come first seated basis.
If you or a member of your party require additional arrangements to attend the service - such as a wheelchair space, space for an assistance animal, please contact our Events Office on [email protected]. All requests must be received at least four working days before the service date.
Please note, due to the nature of the building and the demand for places at our major services, we have limited capacity and can only offer up to three companion spaces for each person who requires additional arrangements.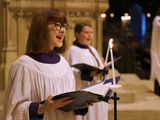 There seems to have been an error while submitting your feedback
Thank you for submitting your feedback
Add your feedback