The Big FRIENDly Sing
Fauré's Requiem: Choral Workshop & Performance
Sat, 4 March 2023, Quire
Whether you want to sing in the Cathedral alongside our choir or just enjoy a spirited performance of Fauré's Requiem, be a part of our fourth annual Big FRIENDly sing!
This is a fundraising event to support The Friends of Canterbury Cathedral, Charity No 256575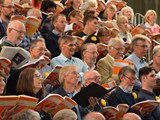 Choral Workshop
Sing Fauré's Requiem from scratch! Under the baton of Dr David Newsholme, Director of Music, and with Jamie Rogers, Assistant Director of Music, as accompanist, you will rehearse in the afternoon and then take part in the evening performance in the Cathedral alongside professional soloists. 
COST: £20 to sing with your own musical score, £23 to sing with hired music on the day.
Strictly limited to 180 singers. Pre-booking required.
Performance of Fauré's Requiem
Join the audience for this moving performance of Fauré's Requiem by the Cathedral Choir and a choir of 180 enthusiastic amateurs. Conducted by Dr David Newsholme and accompanied by Jamie Rogers. 
COST: £12 in Quire (all seats unreserved), children under 12 free.
Tickets can be booked online and will also be available on the door.
All enquiries to 01227 865292 or [email protected]. 
There seems to have been an error while submitting your feedback
Thank you for submitting your feedback
Add your feedback