Tuesday 30 May 2023, 10.30, Clagett Auditorium
TALK: Beer and Brewing in Kent
John Owen, Archivist of Shepherd Neame, Britain's oldest brewery founded in 1698, will talk about Kent's long association with hops. 
Find out more about why they were first grown in the county, how brewing developed, and why beer became, for some time, the national drink.
Tickets: £8 Friends of Canterbury Cathedral, £10 non-members, includes tea and coffee on arrival.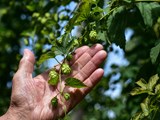 There seems to have been an error while submitting your feedback
Thank you for submitting your feedback
Add your feedback