Saturday 27 May, 08:30 - 16:30
Demystifying Prayer with the Archbishop of Canterbury
A new initiative to create a space for the church to come together in prayer and conversation.
Starting in the Spring of 2023, Archbishop Justin will convene three or four gatherings each year within the Southern Province of the Church of England. The first of these will be held in Canterbury Cathedral on Saturday, May 27th where Archbishop Justin will be supported by Bishop Rose Hudson-Wilkin, Dean. Rev. David Monteith, Rev. Richard Braddy, Rev. Mark Griffin, Lyndall Bywater (Canterbury Diocese Prayer Co-ordinator), The Chemin Neuf Community, Community of St Anselm, and the various churches and networks involved in praying for the Canterbury community, in association with the Diocese of Canterbury. Further locations will be announced later in the year.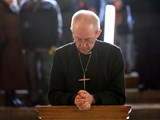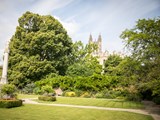 The gatherings will aim to:
Bring various church communities together in prayer
Build unity in prayer by offering the church a chance to explore and experience the offerings of other denominations and traditions
Provide an opportunity for people to hear Archbishop Justin's vision on prayer
Hear from key leaders on the impact of prayer in the world today
Resource those at the event, and the wider church, to develop or encourage corporate prayer in churches, schools, homes and workplaces
The goal is to strengthen existing initiatives and encourage the whole Church to explore new possibilities of how to pray.
This initiative is part of Archbishop Justin's priority of Prayer and the Religious Life, and will include the Community of St Anselm, the ecumenical community of young Christians who live at Lambeth Palace for a year in prayer, study and service.
We encourage you to come and join us for the whole day but you are also welcome if you're only able to join us for part.
Free to attend. Refreshments and light lunch included.
YOU ARE ALSO INVITED TO JOIN ARCHBISHOP JUSTIN WELBY FOR MORNING PRAYERS.
On Saturday, May 27th, Archbishop Justin Welby will be leading us in morning prayers at St. Martin's Church, Canterbury, significantly the oldest church in continuous use in the English-speaking world. We will meet from 8:30am and then enjoy a casual Pilgrim's Prayer Walk from St. Martin's Church to Canterbury Cathedral for tea/coffee and refreshments before the main event.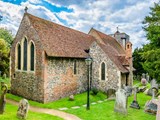 There seems to have been an error while submitting your feedback
Thank you for submitting your feedback
Add your feedback