Sat, 25 February, 19.30. Cathedral Crypt
An Audience with Paul Phoenix
Enjoy an intimate evening recital with Grammy-winning tenor, and former King's Singer, Paul Phoenix.
Paul will discuss his fascinating five decades in music, from his time as a boy chorister at St Paul's Cathedral to his flourishing career as concert soloist and coach/mentor, and will illustrate his journey by performing significant pieces from his life in music, from all genres, accompanied by Jamie Rogers.
Cost: £15 per ticket, plus a non-refundable booking fee of £1.50 per ticket. Under 18s free of charge if accompanied by an adult. Tickets available from Canterbury Festival Box Office.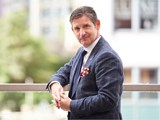 There seems to have been an error while submitting your feedback
Thank you for submitting your feedback
Add your feedback