Saturday 24 June 2023, 10:00-16:00
Trinity Quiet Day: The Luminous Mysteries - Contemplating the Life of Christ
An opportunity to contemplate the life of Christ through scripture and the ancient devotional practice of the rosary.
Whether this form of prayer is familiar or new to you, do join us for a day set aside to deepening our walk with God. Our Trinity Season Quiet Day follows on from our successful Lenten Quiet Day which focused on the Sorrowful Mysteries of the Rosary however, it can also stand alone for those who were unable to join us in Lent.
The Day will be held in the Cathedral's Jesus Chapel and All Saints' Chapel, and led by Canon Emma and Alexander Muir.
There will be a lunch break during the event; you are welcome to bring your own refreshments to enjoy in the grounds of the Cathedral, or there are many local cafes and eateries to choose from just outside the Christ Church Gate.
This is a free event. Book your place.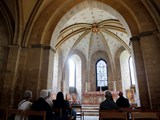 There seems to have been an error while submitting your feedback
Thank you for submitting your feedback
Add your feedback