Tuesday 19 March 2024, 10:30, Clagett Auditorium
TALK: Off the Beaten Track in Early Christian Rome
Rome has played a central role in the history of Christianity ever since the martyrdoms of Saints Peter and Paul.
The narrative is all around you as you wander through the eternal city's thronged streets and crowded sites, but it is possible, even in summer, to experience this Christian heritage away from the 'honeypots' and the tourist masses - through less well frequented yet historically and architecturally interesting churches and monuments; many are beautifully decorated with mosaics or frescoes, and all have their individual stories to tell.
So escape an English March and the Roman crowds and journey through the development of Christianity in Rome in the first millennium AD, on the way enjoying some real gems of Christian heritage.
This talk will be given by Dr John Williams, a Trustee of The Friends, who was for many years County Archaeologist and Head of Heritage Conservation for Kent County Council. He has a specialist research interest in the Early Medieval Period.
Tickets: £8 Friends of Canterbury Cathedral, £10 non-members, includes tea and coffee on arrival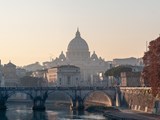 There seems to have been an error while submitting your feedback
Thank you for submitting your feedback
Add your feedback