Evening closure of Precincts, Tues 26 – Sat 30 September
Due to the Luxmuralis light show and the need to manage large queues, public entry to the Precincts after 17:30 will only be possible for Luxmuralis ticket holders or those attending Choral Evensong.
Planning your visit? Remember to check our upcoming closures.


Refugee Week: 19-22 June 2023
Community of Compassion
For Refugee Week 2023, the Cathedral has joined with Diocesan Social Justice Network, the Clewer Initiative, and KRAN to engage our surrounding communities via talks, workshops, discussions and an exhibition in building a Community of Compassion for those in need of international protection.
All are welcome.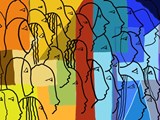 Thursday 22 June, 14:30-17:30
Building Bridges
Members of the Diocesan Social Justice Network, Clewer Initiative, KRAN, and Canterbury Cathedral Community warmly invite you to join them for a panel discussion to explore the impact of modern slavery and human trafficking on refugees and look at ways in which we can build bridges with one another to create a community of compassion for all those in need of international protection.
There will be market stalls of resources and toolkits on Hidden Voices, County Lines, and Refugee Awareness given by different organisations from across Canterbury and Kent.
This event also includes an introductory tour and opportunity to view the exhibition Hear My Voice.
This is a free event. Please book your ticket via Eventbrite.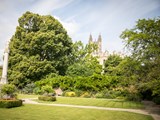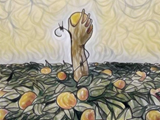 19-22 June
Art exhibition: Hear My Voice
Hear My Voice is a stunning exhibition in the Cathedral's Chapter House and Cloister that aims to give migrants and refugees a voice by sharing their experiences and perspectives through art.
The moving artwork has been created by migrants and refugees from Ivory Coast, Senegal, The Gambia, Sudan, Afghanistan, Bangladesh, Syria, Ethiopia and Eritrea through a series of therapeutic art workshops. These workshops, which were held in Calabria and Sicily and facilitated by The Clewer Initiative and the Federation of Protestant Churches in Italy (FCEI) through its Mediterranean Hope programme, enabled migrants to express their feelings about refugee life, the journey to freedom, their relationship with their host communities and their sense of identity.
This is a free exhibition, included within Precincts entry.
There seems to have been an error while submitting your feedback
Thank you for submitting your feedback
Add your feedback