Tuesday 16 January 2024, 10:30
TALK: Canterbury Cathedral's Gardens Through the Centuries
There is an astonishing 23 acres of gardens including the 16th Century Herb Garden, the Friends' Garden, Memorial Garden, and more.
Thomas Goodall, Head Gardener, and his colleagues will talk about the varied gardens of The Precincts, both private and public.
Discover more about the history of some of the spaces as well as the work of our current gardening team and their plans for future projects.
Tickets: £8 Friends of Canterbury Cathedral, £10 non-members, includes tea and coffee on arrival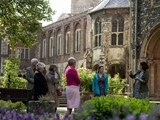 There seems to have been an error while submitting your feedback
Thank you for submitting your feedback
Add your feedback