Saturday 12 November 2022, 19.00
Vigil for Ukraine
On the eve of Remembrance Sunday, we will be holding a prayer vigil for Ukraine to remember all who have died during the conflict and to pray for loved ones in danger or displaced from their homes. 
There will be a short act of worship at 19.00 in the Chapel of Our Lady Undercroft in the Crypt, followed by a time of personal prayer during which anyone is welcome to light candles for loved ones. 
Ukrainian prayer cards will be available throughout the evening which concludes at 20.45 with the office of Compline. 
Refreshments will also be provided in our Community Studio for anyone who wishes to talk to someone and share their story. 
There is no charge to attend a service, and all are welcome.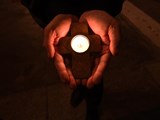 There seems to have been an error while submitting your feedback
Thank you for submitting your feedback
Add your feedback