Saturday 11 March 2023, 10.00 to 17.30
Church, Saints and Seals, 1150-1300
Study day combining presentations by experts and a visit to the Cathedral Archives and Conservation Studio. Speakers will discuss the iconography and materiality of seals, as well as sealing practices.
Tickets (including sandwich lunch): full price £50; students £25. Some assisted places for students are available; please enquire.
To book, please email [email protected]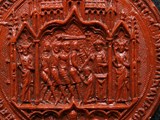 Provisional timetable
10.00
Registration and refreshments
10.30

Welcome and Session 1

Prof Markus Späth, Justus-Liebig-Universität Gießen: 'Thomas Becket, a seal? Perceptions of a martyr c. 1200'

11.15

Session 2

Dr Lloyd de Beer (British Museum) and Prof Sandy Heslop (University of East Anglia): 'In the Presence of Absence: meeting the angel with the nuns of St Sepulchre at Canterbury'

12.00
Lunch (provided)
13.00

Session 3

Dr Philippa Hoskin (Parker Library, Corpus Christi College, Cambridge):  'The Thief, the Wife and the Bishop: seals and identity in 13th and 14th century England'

13.45

Session 4

Dr Paul Dryburgh (The National Archives): 'Framing the divine: an introduction to ecclesiastical seals collection at The National Archives'

14.30
Refreshments
15.00

Session 5

Short presentations and concluding remarks

15.45
Visit to Cathedral Archives and Conservation Studio
17.30

All are most welcome to attend Evensong in the Cathedral at 17.30, sung by the Boys and Men of the Cathedral Choir.
There seems to have been an error while submitting your feedback
Thank you for submitting your feedback
Add your feedback