Visitor FAQs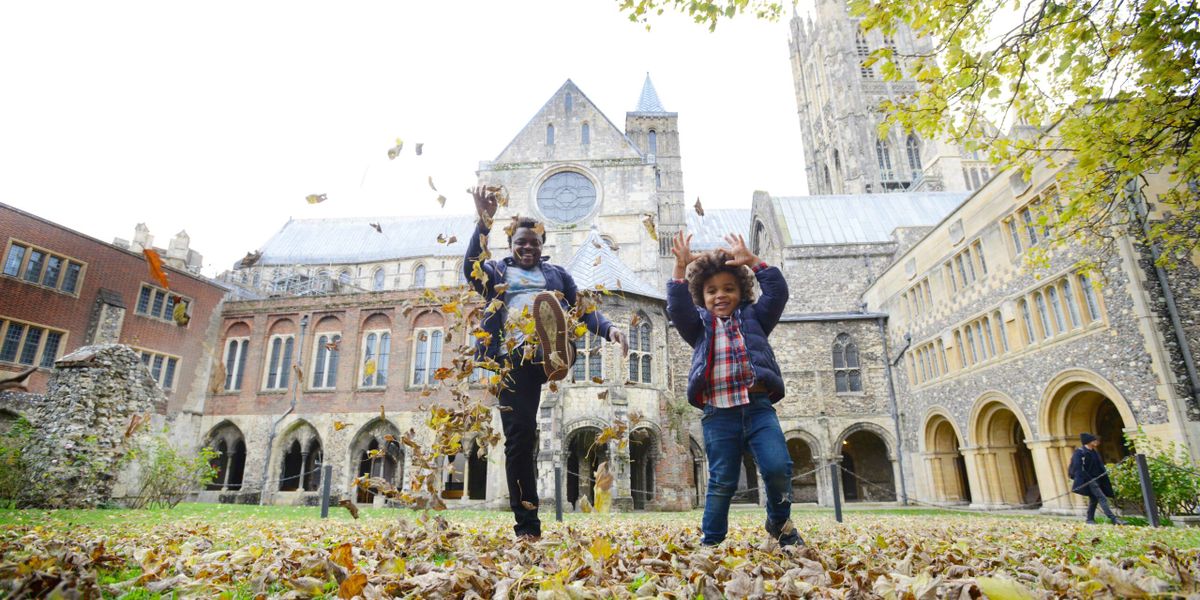 2022 - the perfect time to rediscover Canterbury Cathedral!
Get ready for a day out 1,400 years in the making! Kids Go Free until 31 October 2022 (T&Cs apply)
Book online Fast-track your visitor entry to the Cathedral
---
Do I need to book a ticket to visit?
No, tickets can be bought from our Visitor Centre when you arrive.
I have a Precinct Pass, do I need to pre-book entry to the Precincts and/or Cathedral?
There is no need to pre-book entry with a Precinct Pass, just show your Precinct Pass on arrival at the Cathedral.
What Covid safety measures are in place?
From 24 February 2022, in line with the 'Living with Covid' plan:
The Government suggests that you consider wearing a face covering in crowded and enclosed spaces, especially where you come into contact with people you do not usually meet.
Adults and children who test positive are advised to stay at home and avoid contact with other people.
As a courtesy to others, please be mindful of personal space when in busy areas of the Cathedral, Shop or Lodge.
Canterbury Cathedral will continue to provide hand sanitiser stations* and an enhanced cleaning regime in busier areas.
* With thanks to Allchurches Trust for grant funding towards the cost of hand sanitiser stations and other PPE measures. 
Where do I go when I arrive?
Visitors who need to purchase tickets should enter through our Visitor Centre and Shop. Please speak to our staff if you require access to the lift.
Once inside the Precincts, accessible/wheelchair entry to the Cathedral building is via the North Door and is clearly signed.
How long is my visit likely to last?
Your visit is likely to last one to three hours.
Will audio tours be available?
Our new audio tour app will be available very soon. In the meantime, our Cathedral Stories audio podcast gives you the chance to learn more of the Cathedral's fascinating history before you arrive. Click here to listen to the episodes.
Will services of worship be taking place?
Services of worship take place outside of visiting hours (click here to read our Worship FAQs). Visitor opening times may change at short notice due to funerals, weddings, services or exceptional circumstances. Please check our website regularly prior to your visit.
Will I be able to light a candle?
Yes. Votive candles will be available at the west end of the Nave during Nave services. A prayer meditation is also available (text and audio) on our website to help guide your prayer.
Will the toilets be open?
Yes. Our public toilets in the Precincts will be open 10.00-18.30 daily. Toilets will be checked regularly.
Is visitor parking available?
Parking is available for Blue Badge holders only, subject to limited availability. No other parking on site is possible. Please use the public car parks within the City.
Can I donate to support the Cathedral?
Yes, we welcome any support for our ministry and the stewardship of the Cathedral. You can donate online, give at one of the contactless donation stands in the Cathedral, or make a cash donation into one of our collection boxes.
Archives and Library
The Archives and Library reading room is open on Wednesdays and Thursdays. All visits need to be pre-booked. Please click here for more information.
Bag searches
Please note that bag searches may be carried out upon arrival by our Cathedral Constables. To keep delays to a minimum, visitors are asked to avoid bringing large bags or backpacks. The searches are not in response to intelligence of any particular threat relating to Canterbury Cathedral, but we take the security of staff, volunteers, visitors and worshippers very seriously, and we hope this will help reassure all who come to the Cathedral.
Who can I contact with any other questions?
Our Visits team are happy to help with any queries you have. Email them at visits@canterbury-cathedral.org.
Security
The Cathedral takes the safety and security of all our worshippers and visitors very seriously. If you are coming to the Cathedral, please be aware that as a condition of entry we reserve the right to search any bags or luggage on entry. Our Cathedral Constables and Visits Teams are there for your safety, so please do cooperate fully with all security checks and support these vital members of our team as they carry out important work to keep us all safe and sound.
An exception will be made for medically necessary items after thorough proper inspection at a designated area set aside for this purpose.
Our bag policy
Regrettably, we do not have a left luggage facility and we would prefer you do not bring large bags into the Cathedral. If you bring any luggage or bags, you must not leave them unattended as they may be treated as suspicious items and could be destroyed.
Share