Prepare for your visit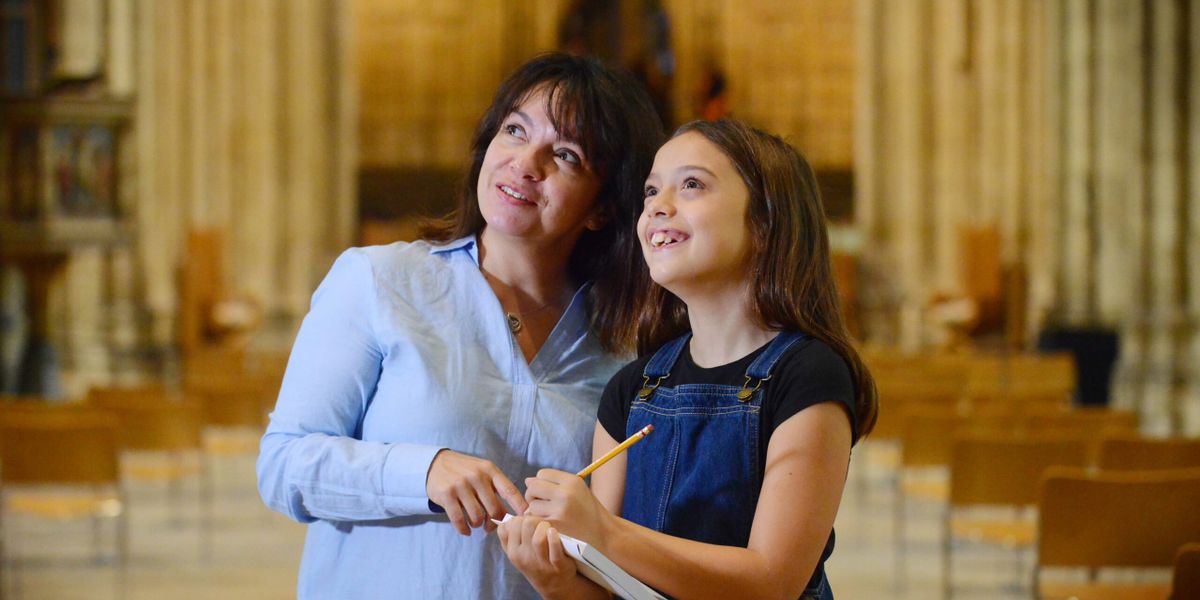 2022 - the perfect time to rediscover Canterbury Cathedral!
Get ready for a day out 1,400 years in the making! Kids Go Free until 31 October 2022 (T&Cs apply)
Book online Fast-track your visitor entry to the Cathedral
---
Download a free guide
Download our free Guide to your phone to better enjoy and understand the significant spaces you'll see during your visit:
Colouring sheets
One of the great treasurers in the Cathedral's Archives and Library is a book about animals called a 'bestiary'. This lovely book was written in Latin and decorated over 700 years ago, all by hand. The book was never finished: some animals were never illustrated, and some of the illustrations were never coloured. Help us by adding some colour to these images, as well as those from Gerard's 'Herbal', Gessner's work on animals and Dart's 'History and Antiquities'. Click here to download the colouring sheets (PDF).
We'd love to see some examples of your finished work. Share them on social media by tagging @no1cathedral on Facebook, Twitter or Instagram.
Podcasts: 'Cathedral Stories'
An ideal way to prepare for your visit, our Cathedral Stories podcast series gives you an insight into the events and people who have helped to shape and mould the Cathedral, the moments it has witnessed, and how what you see at the Cathedral today reflects all the people and ideas that have gone before. Click here to listen to the episodes to learn more of the Cathedral's fascinating history before you arrive.
Virtual Tour
Take a virtual tour of Canterbury Cathedral and enjoy a 360 degree view of the magnificent building, including a unique opportunity to explore the views from Bell Harry tower. Click here to launch the tour.
Conservation and restoration work
The Canterbury Journey is addressing urgent restoration and conservation needs. This means that scaffolding and sounds of construction will be noticeable when you visit us. You will still find peace and beauty today within vast spaces unaffected by the works.
The Cathedral was in a similar position when Chaucer's Pilgrims left Southwark for Canterbury, with construction in the Nave and the sound of masons' chisels hammering on stone. Visiting now gives a once in a lifetime chance to appreciate how amazing it is that such a huge building was constructed without our modern equipment and army of craftspeople, engineers, architects and consultants.
Security
The Cathedral takes the safety and security of all our worshippers and visitors very seriously. If you are coming to the Cathedral, please be aware that as a condition of entry we reserve the right to search any bags or luggage on entry. Our Cathedral Constables and Visits Teams are there for your safety, so please do cooperate fully with all security checks and support these vital members of our team as they carry out important work to keep us all safe and sound.
An exception will be made for medically necessary items after thorough proper inspection at a designated area set aside for this purpose.
Our bag policy
Regrettably, we do not have a left luggage facility and we would prefer you do not bring large bags into the Cathedral. If you bring any luggage or bags, you must not leave them unattended as they may be treated as suspicious items and could be destroyed.
Share