NEW Cathedral Tours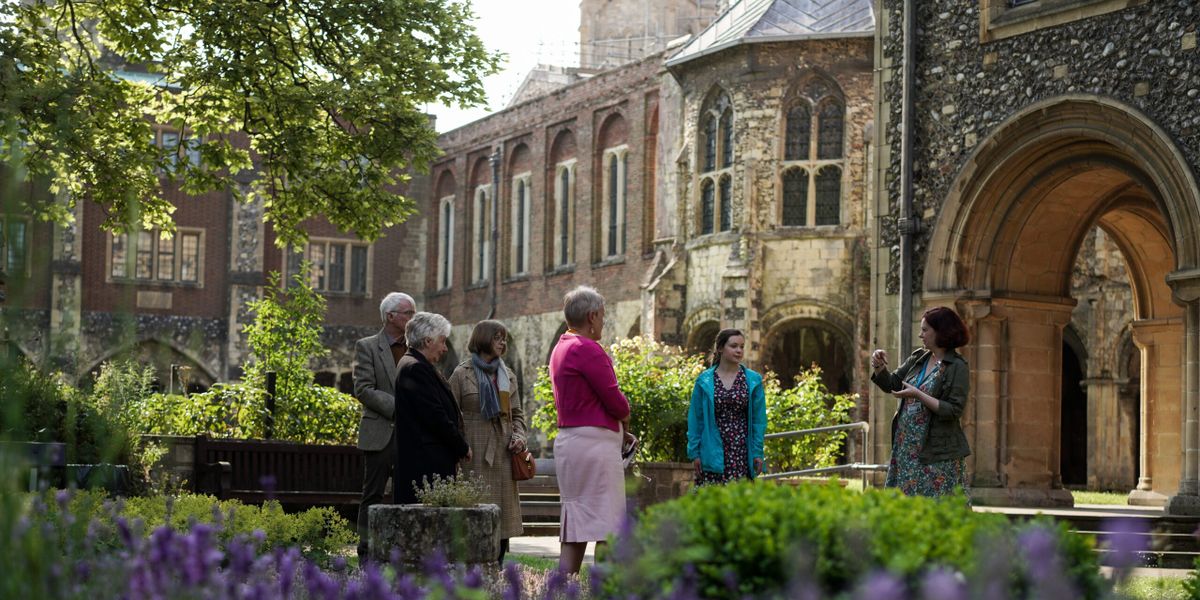 Discover the precincts, gardens, and history of Canterbury Cathedral with our new tours. Each tour costs £5 per person, ask a member of staff how to book when you arrive.
Please note, numbers are strictly limited. We are a working church so there may be occasions when these tours will not be available.
Cathedral Tour – The Inside Story
Discover the history of Canterbury Cathedral, from the re-establishment of Christianity in England in 597, to the murder of Thomas Becket, which made Canterbury one of the most important pilgrimage sites in the medieval world.
Marvel at the soaring architecture, effigies of Henry IV and the Black Prince, and explore the beauty of the medieval stained glass.
11.00 & 14.00, Monday – Saturday
The tour takes 75 minutes and is mostly inside.
Stained Glass Tour
Explore the stained glass windows of Canterbury Cathedral and discover why they are here, how they were made, and the stories they tell. From early medieval glass – including four Ancestor Windows present at the time of Thomas Becket's murder – to that of the 21st century, you will enjoy an insight in to these unique treasures of the Cathedral.
12.00, Monday – Saturday  
The tour takes 60 minutes and is inside.
NEW – Audio Tours
Listen to 1,400 years of history! Discover the Cathedral's unique and fascinating history with this self-guided tour that you download to your phone.
£2.50 per download
The tour lasts approximately 60 minutes
To purchase a download, please ask our staff. Headphones are not provided, but are available to purchase in the Canterbury Cathedral Shop.
FREE – Mini talks*
Enjoy a bite-size exploration of the Cathedral's history with a free 15-minute mini talk from our volunteer guides. Whether it's WWI memorials, Henry IV, the Chapter House, the Great Cloister, Becket, or something else entirely, our knowledgeable guides will share with you fascinating insights and little-known facts.
Mini talks start at quarter past the hour, and the meeting point is at the west end of the Nave, near the entrance.
NEW – Library visits
A visit to our magnificent Howley-Harrison Library, with a display of highlights from our printed collections. Cost £8 per person; booking required. To reserve your place, please email archives@canterbury-cathedral.org or telephone 01227 865330. Visit not suitable for children under 12.
Visits are available on the following dates, at 2pm, lasting about 45 minutes:
Wed 08 Jun
Wed 06 Jul
Wed 20 Jul
Share