NEW Cathedral Tours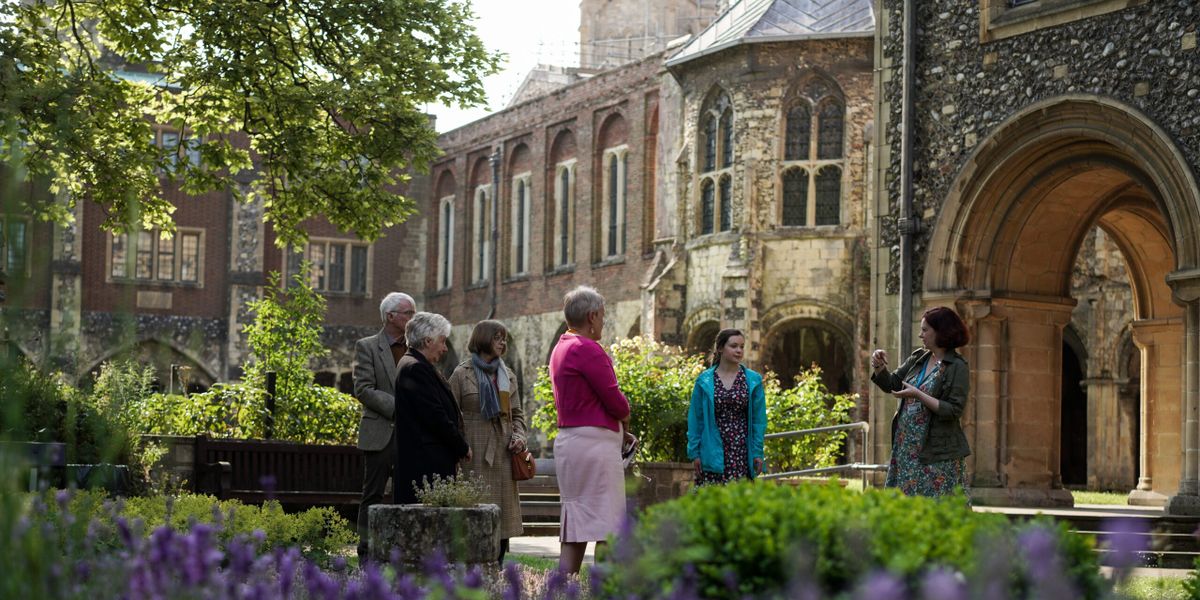 Discover the precincts, gardens, and history of Canterbury Cathedral with our new tours. Each tour costs £5 per person, ask a member of staff how to book when you arrive.
Please note, numbers are strictly limited. We are a working church so there may be occasions when these tours will not be available.
Cathedral Tour – The Inside Story
Discover the history of Canterbury Cathedral, from the re-establishment of Christianity in England in 597, to the murder of Thomas Becket, which made Canterbury one of the most important pilgrimage sites in the medieval world.
Marvel at the soaring architecture, effigies of Henry IV and the Black Prince, and explore the beauty of the medieval stained glass.
11.00 & 14.00, Monday- Saturday
The tour takes 75 minutes and is mostly inside.
NEW – Stained Glass Tour
Explore the stained glass windows of Canterbury Cathedral and discover why they are here, how they were made, and the stories they tell. From early medieval glass – including four Ancestor Windows present at the time of Thomas Becket's murder – to that of the 21st century, you will enjoy an insight in to these unique treasures of the Cathedral.
12.00, Monday, Wednesday, and Friday 
The tour takes 60 minutes and is inside.
FREE – Mini talks*
Enjoy a bite-size exploration of the Cathedral's history with a free 15-minute mini talk from our volunteer guides. Whether it's WWI memorials, Henry IV, the Chapter House, the Great Cloister, Becket, or something else entirely, our knowledgeable guides will share with you fascinating insights and little-known facts.
Mini talks start at quarter past the hour, and the meeting point is at the west end of the Nave, near the entrance.
FREE – Christmas Mini talks*
Join our Christmas Mini Talks in the Cathedral to discover fascinating and quirky facts about Christmas past and present. Talks are led by our knowledgeable guides and last between 20 and 30 minutes.
11.30 & 13.30, Monday – Saturday
*Precinct entrance charges apply.
Cathedral Memory Tree
If you would like to remember someone over the Christmas period, you can write their name and a message on one of our tags and place it on our Memory Tree in the Visitor Centre. The messages and names will remain on the tree until Twelfth Night, when they will then be taken down and placed on the High Altar in the Cathedral.
Alternatively, you can email visits@canterbury-cathedral.org and we will place your message on the tree for you.
Share