Visitor Facilities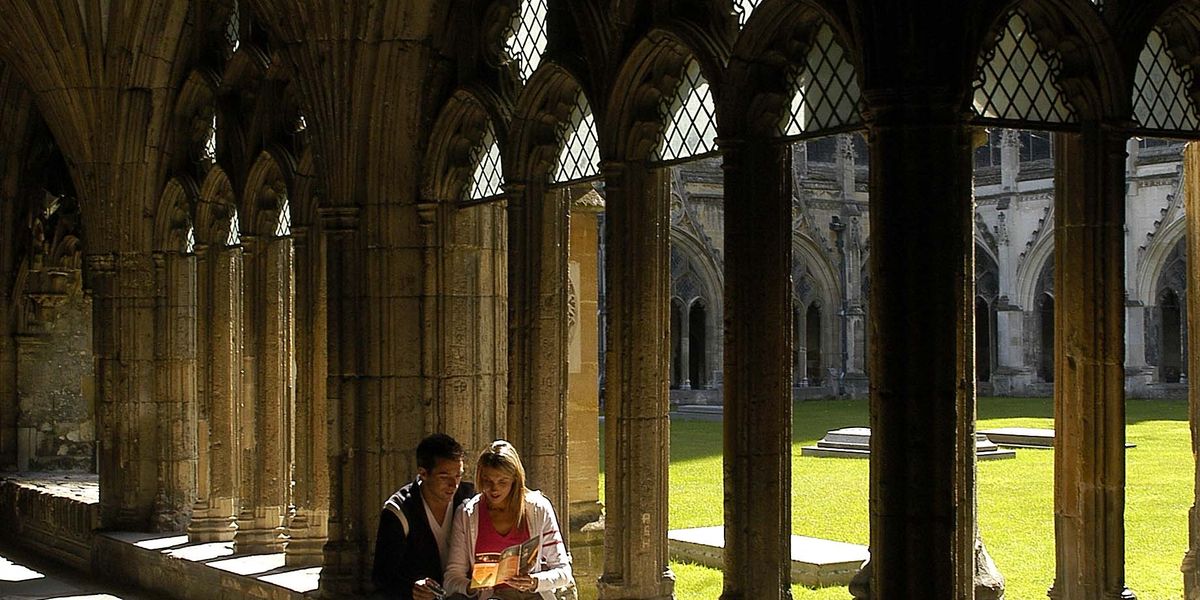 The Cathedral offers a wide range of facilities to ensure that all visitors enjoy a first class visitor experience. We usually have eight or so trained volunteer Welcomers, Assistants and Guides on duty who are there to help you make the best of your visit.
Guided Tours
Our expert guides make the Cathedral and its rich history come to life and a guided tour is highly recommended. Tickets are available from the Welcome Centre: adults £5 pp, family £10.Tours take place throughout the day:
Weekdays (Monday to Friday) 10:30*, 12:00 and 14:00 (14:30 Summer) hrs
Saturday 10:30, 12:00 and 13:00 hrs
*There is no 10.30 guided tour during January.
Mini Talks
From 1st March 2018, free 15-minute talks are offered throughout the day, at a quarter past the hour from 10.15-15.15hrs (Sunday 13.00 and 13.30hrs), on a wide range of subjects. From Thomas Becket to stained glass, icons to the Black Prince, there is something to learn every day and you will be inspired by the knowledge and passion of our volunteers. See the daily notice for up-to-date details.
Audio Tours
Visitors can use the excellent audio tours, available in seven languages, English, Dutch, French, German, Spanish, Italian and Japanese. The main tour lasts 40 minutes with an optional section lasting another 20 minutes which covers the Great Cloister and Chapter House. Audiotours are available from the kiosk in the Nave; adults £4 pp.
Guide Books
You have a choice of three official guide books which can be bought when you arrive or in advance from the Cathedral Shop website. A compact step-by-step 24 page "Walking Guide" has a plan and thumbnail images and is available in most languages. Also available are a 40 page photographic "Souvenir" book with captions in the five most popular languages and a 96 page comprehensive guide book in English, French and German. We publish other detailed books on the Cathedral's history, architecture, stained glass and historic people.
Young Visitors
The Cathedral is full of interesting and colourful tombs – we even have a 'double decker or bunk bed' one! – carvings of animals and other creatures. Ask for the Tomb Trail or Creatures Great & Small at the Welcome Centre. Make sure not to miss the Cloister ceiling where you can find all sorts of funny faces with green leaves coming out of ears and noses, carvings of beasts and heraldry. Alternatively, purchase the Young Person's Guide to Canterbury Cathedral on arrival at the Welcome Centre or Cathedral Shop.
We regularly offer family friendly tours, Explorer backpacks and other hands-on activities during school holidays. Please visit the What's On pages for up-to-date information.
Accommodation
First class accommodation is available in the Cathedral Lodge. Its location immediately next to the Cathedral will make your stay an unforgettable occasion. Entry to the Cathedral is included in your stay, saving £12.50pp.
Hospitality
A coffee kiosk in the south Precincts (seasonally, April ~ September) offers a wide range of snacks, sandwiches and beverages. Group hospitality is available in the Cathedral Lodge.
Photography
Photography is permitted (except in the Crypt and during Services) – but for your own personal use only. Any commercial / stock library photography must be agreed in advance and is subject to a fee.
Clergy Availability
Chaplains are on duty in the Cathedral at most times. A priest is always available, and any Cathedral official will help to locate him/her.
Parking
Parking is not possible within the precincts except for a very few disabled parking spaces, by prior arrangement. The Cathedral is in the heart of Canterbury and there are several public car parks nearby. Canterbury is also served by three excellent Park & Ride services. For details, please see our Map & Directions page, or visit the Visit Canterbury website.
Assistance Dogs
Guide dogs, hearing dogs and assistance dogs are welcome in the Cathedral at all times. Water for dogs is available at the Welcome Centre. Other dogs are welcome in the Cathedral grounds, but not Cathedral itself.
Share