General Information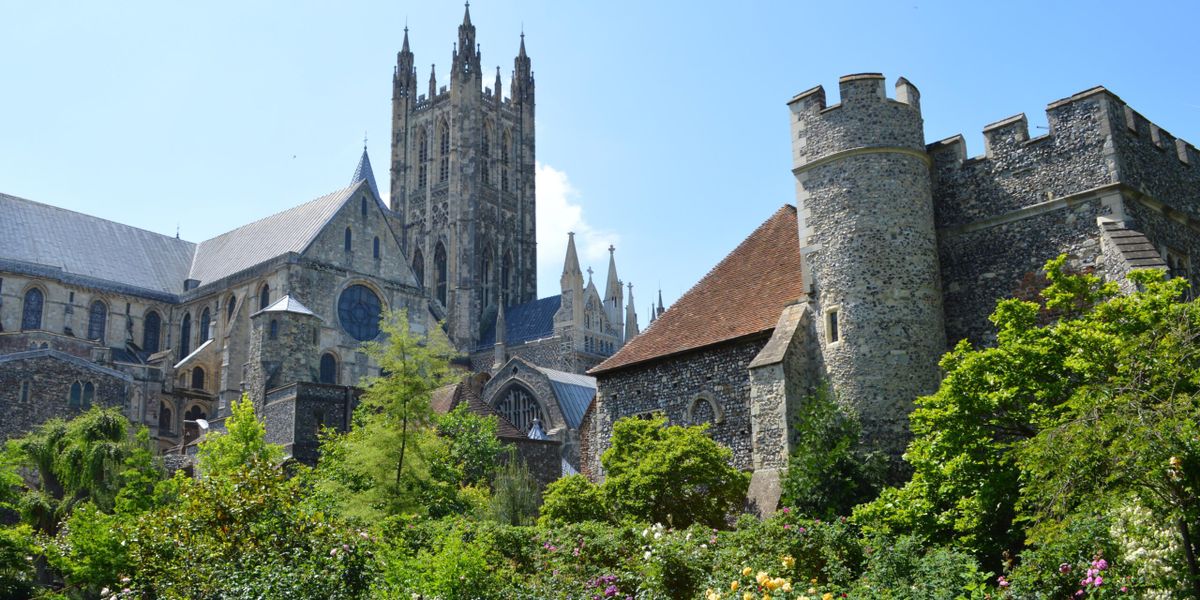 2021 - the perfect time to rediscover Canterbury Cathedral!
Get ready for a day out 1,400 years in the making! Kids Go Free until 31 October 2021 (T&Cs apply)
Pilgrims and visitors have made their way to Canterbury Cathedral since the Middle Ages. It remains one of the most visited places in the country, and, just as importantly, a working, living church and community. Visitors have always been made welcome in the ancient tradition of Benedictine hospitality. We continue this tradition, warmly inviting you to share with us the beauty of one of the great holy places of Christendom.
We are delighted to welcome congregations to worship within the Cathedral. Please see below for details of our in-person services.
Worship at Canterbury Cathedral
Regular Worship
| | |
| --- | --- |
| Daily Morning Prayer | 07.30 (Mon-Fri); 09.15 (Sat-Sun & Bank Holidays) |
| Daily Eucharist | 08.00 (On Sunday this is BCP Communion) |
| Lunchtime Eucharist | 12.30 (Wednesdays and Feast Days only) |
| Daily Choral Evensong* | 17.30 |
| Sunday Choral Eucharist* | 11.00 |
*Our Choral Services are livestreamed and available on our website and via YouTube. If you attend these services you may be seen on camera, and by attending these services you give your permission to appear in this way.
All are welcome and there is no charge to attend a service. See the daily list for the locations of the services.
Special Services for September 2021
In addition to the regular services listed above, the following additional services take place in September to which all are very welcome to attend.
Friday 3 September
12.30
Said Eucharist for St Gregory the Great
Tuesday 7 September
19.30
Episcopal Visitation Service
Tuesday 14 September
12.30
Said Eucharist for Holy Cross Day
Wednesday 15 September
19.30
Episcopal Visitation Service
Saturday 18 September
11.30
Bookbags Blessing for Children
Tuesday 21 September
12.30
Said Eucharist for St Matthew
Sunday 26 September

King's School Choral Matins
Evensong & Celebration of Reader Ministry

Wednesday 29 September

Said Eucharist for St Michael & All Angels
First Sacred Space of Term
As a courtesy to other worshippers and Cathedral staff, please wear a face covering when in close proximity to others. Please see our Worship FAQs for further information.
For the comfort, safety and reassurance of our worshippers and staff, Canterbury Cathedral will continue to maintain a number of Covid mitigation measures, including:
Provision of hand sanitiser stations
The wearing of face coverings when in close proximity to others
Delivery of an enhanced cleaning regime in busier areas.
Canterbury Cathedral is a very large space with excellent natural ventilation, which is a key factor in reducing the risk of COVID infection. Following updated government guidance, you will notice a few changes to our worship:
Congregational singing is now allowed.
You are no longer required to seat 2m away from others, although you may wish to space yourself from others and we ask you to respect the wishes of others for space when you choose where to sit.
Share