The Very Reverend Dr Jane Hedges Installed as Acting Dean of Canterbury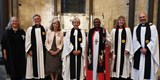 The Very Reverend Dr Jane Hedges was installed as a Residentiary Canon at Canterbury Cathedral by The Rt Revd Rose Hudson-Wilkin, Bishop of Dover, on Monday 20 June 2022.
The installation, which took place during Choral Evensong, allows Jane to take up the role of Acting Dean of Canterbury (who must be a Residentiary Canon) and to carry out the duties associated with the post. The process of appointing a new Dean is currently underway, following the retirement of The Very Revd Dr Robert Willis. A new Dean will be appointed later this year.
The Very Reverend Dr Hedges has recently stepped down from her role as the Dean of Norwich where, in 2014, she became the first female Dean in Norwich Cathedral's history. In 1994, she was one of the first women priests to be ordained, and was a Stewardship Adviser in the Diocese of Portsmouth before she became Canon Residentiary of Portsmouth Cathedral. After spending five years in parish ministry in the Diocese of Exeter, The Very Revd Hedges was made Canon Steward of Westminster Abbey in 2006.
Speaking on her appointment Jane said: "It is hugely exciting and a great honour to have been asked to take on the role of Acting Dean of Canterbury. I very much look forward to working with Chapter colleagues as preparations are made to welcome Bishops from across the Anglican Communion for the Lambeth Conference. As I leave Norwich, which is steeped in Benedictine spirituality, it will be a joy to serve in another Benedictine foundation with the same core principles at the heart of its life."
The Archbishop of Canterbury, Justin Welby, said: "I am absolutely delighted that Jane has agreed to bring her considerable talents, experience and love of Christ to Canterbury Cathedral. This interim role comes at a crucial time as the Cathedral emerges from Covid 19 and with the Lambeth Conference taking place in Canterbury in July and August.
"I look forward to serving alongside her in this remarkable, historic building in its ministry to the diocese, the Church of England and the global Anglican Communion. Please join me in praying for Jane and her family as they take this next step in their journey."
There seems to have been an error while submitting your feedback
Thank you for submitting your feedback
Add your feedback