Evening closure of Precincts, Tues 26 – Sat 30 September
Due to the Luxmuralis light show and the need to manage large queues, public entry to the Precincts after 17:30 will only be possible for Luxmuralis ticket holders or those attending Choral Evensong.
Planning your visit? Remember to check our upcoming closures.


The Very Revd Dr Jane Hedges to be appointed Acting Dean of Canterbury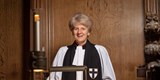 Her Majesty The Queen has approved the appointment of The Very Reverend Dr Jane Hedges as a Residentiary Canon at Canterbury Cathedral. This Crown appointment has been made to allow Jane to take up the role of Acting Dean of Canterbury, who must be a Residentiary Canon. 
The Very Reverend Dr Hedges has recently stepped down from her role as the Dean of Norwich where, in 2014, she became the first female Dean in Norwich Cathedral's history. In 1994, she was one of the first women priests to be ordained, and was a Stewardship Adviser in the Diocese of Portsmouth before she became Canon Residentiary of Portsmouth Cathedral. After spending five years in parish ministry in the Diocese of Exeter, The Very Revd Hedges was made Canon Steward of Westminster Abbey in 2006.
She is expected to take up the role of Acting Dean of Canterbury in the latter half of June this year. The process of appointing a new Dean is underway, following the retirement, later this month, of The Very Revd Dr Robert Willis who has served Canterbury Cathedral as Dean for 21 years. A new Dean will be appointed later this year.
The Archbishop of Canterbury, Justin Welby, said: "I am absolutely delighted that Jane has agreed to bring her considerable talents, experience and love of Christ to Canterbury Cathedral, and I know I am joined by Anglicans in Canterbury and around the world in my deep gratitude for Dean Robert's twenty-one years of service. This interim role comes at a crucial time as the Cathedral emerges from Covid 19 and with the Lambeth Conference taking place in Canterbury in July and August. I look forward to serving alongside her in this remarkable, historic building in its ministry to the diocese, the Church of England and the global Anglican Communion. Please join me in praying for Jane and her family as they take this next step in their journey."
The Very Reverend Jane Hedges said: "It is hugely exciting and a great honour to have been asked to take on the role of Acting Dean of Canterbury. I very much look forward to working with Chapter colleagues as preparations are made to welcome Bishops from across the Anglican Communion for the Lambeth Conference. As I leave Norwich, which is steeped in Benedictine spirituality, it will be a joy to serve in another Benedictine foundation with the same core principles at the heart of its life."
Canterbury Cathedral's Canon Missioner, and acting Vice-Dean, Reverend Dr Emma Pennington, said "I know I speak on behalf of our Cathedral community when I say how pleased we are by the announcement of Dean Jane's appointment, and that we all greatly look forward to welcoming her to Canterbury. Her support and the experience she brings will be greatly valued in this period of significant change for the Cathedral."
There seems to have been an error while submitting your feedback
Thank you for submitting your feedback
Add your feedback